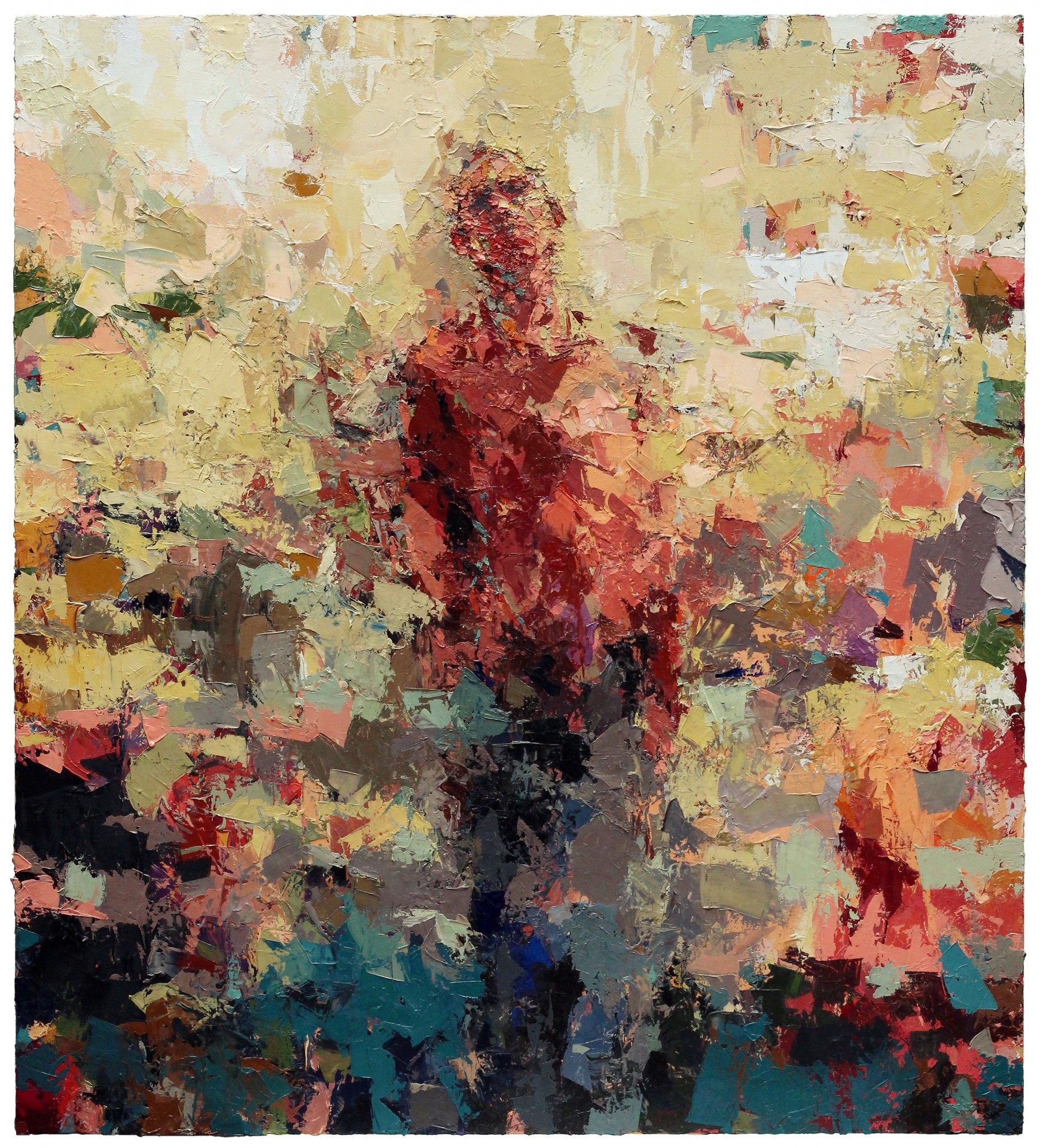 by Aneleise Ruggles | March 15, 2019
Artist Name:
Joshua Meyer
Where are you from?
Cambridge, Massachusetts
What is your primary artistic medium?
Painting
Please talk a little bit about your artistic practice. What does your creative process look like? Where do you create your artwork? How long does one piece take to create from start to finish?
My paintings are built up by layering thick paint. When you look at the overlapping marks, you see time elapse. The paintings take months to complete, but leave their own processes open and visible—unresolved—showing not only the person depicted, but how they came into being. The layers recount the way the painting was made, and allow the painting reveal itself over time. If you stand in front of my art, I hope you can feel what it is like to be there in my shoes, painting and revising.
How do you approach creating a self-portrait?
As I paint, I try to find my way by plunging deeply and directly into the paintings. I revel in the paint and the chaos and I tend to get lost. At the outset, the clean canvas and static image are hurdles, so I start exploring. I paint from life because it forces me to be responsive—there is urgency and vulnerability in the confrontation. But self portraits have an added layer freedom because they start and end with the artist. Of course that freedom only makes them more complicated.
Why do you choose to create self-portraits? Why do you think it is important for artists to create self-portraits?
Art is the way we measure our world. A self portrait helps explore who we are in that relationship—how we build our own language, community and point of view. Self portraits are the most direct way to define where we stand in relationship to our art and our world.
Think about how different Rembrandt's self portraits were from the rest of his paintings. He is at his most inventive, but also his most vulnerable. His self portraits didn't have a client or an audience. He didn't have to answer to anyone. That was rare in Amsterdam in the sixteen-hundreds, but the only one he had to answer to was himself. So he began taking enormous risks, and ended up creating the most extraordinary and revolutionary paintings. I think self portraits today fill a similar role. They show the artist measuring themselves against the world, but performing only for an audience of one.
What role does social media play in your artistic practice?
My art is slow, steady, and analog.
Just me in my studio with a mirror or model, a canvas, a coffee and a lot of paint.
How do you think a stranger may "perceive" you based on the work that you create?
I paint and I paint, and then I open up the painting just enough for a stranger to squeeze in.
It isn't my role to know or to want to know how I am perceived.
How do you think a stranger may "perceive" you based on your social media profile(s)?
What I share are just paintings, which I hope are enough to pique people's curiosity. I hope they make you curious enough to see the work in person.

Learn More:
Joshua is presenting his solo exhibition "Courting Incoherence" at the Lyons Wier Gallery in New York, NY | February 26-March 30, 2019