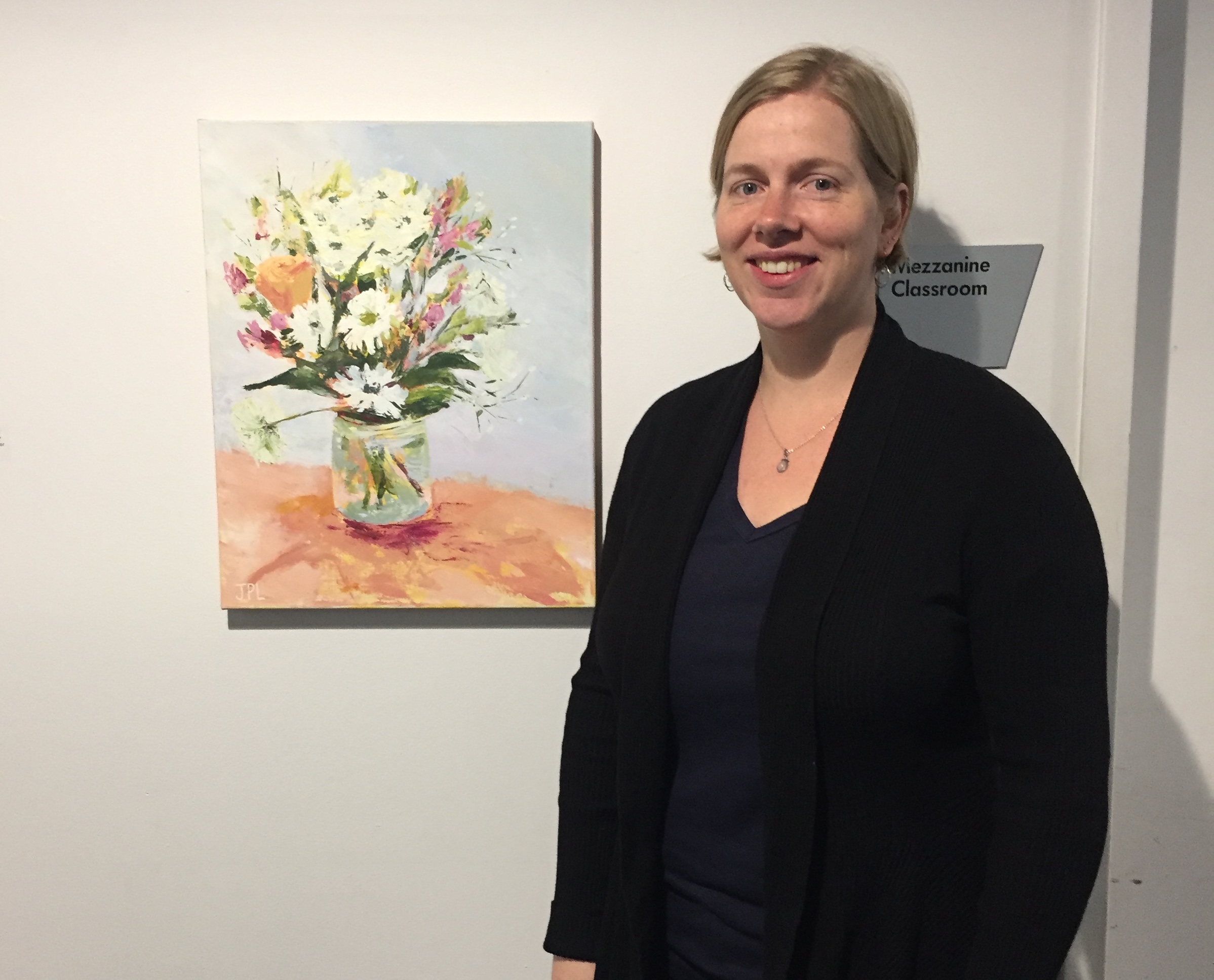 September 16, 2019
September 16 - 22 is Member Appreciation Week at the Mosesian Center for the Arts! To celebrate, we'll be posting profiles of the incredible artists, students, and patrons who make up our community all week long. Today, we're sharing a conversation that we had with Jessica Parsons Lomeli, a Belmont resident and artist whose work is featured in our 2019 Member Show. 
Q: How long have you been involved with the MCA? What first brought you here?   

A: I started taking classes here four years ago. I was looking for a class that was held during the day – my youngest kid was entering preschool so I found a class here and then joined because it was a good community to join.  

Q: How do you participate in the arts at the MCA?   

A: My kids have done the summer camp here, I take classes here, and I have entered work in a couple of the shows. 

Q: What has been your favorite event/experience here?   

A: Definitely the group of people that take the Advanced Acrylic Painting class taught by Marta with me and forming that community of people that can kind of nerd out on painting together, because being an artist at home is a little bit isolating. So having a place to come weekly and be nerds about art together, give each other feedback, and support each other has been really amazing. We have a great group, it's fun. 

Q: If you could meet any historic or contemporary artist (visual artist, filmmaker, musician, etc) who would you pick? Why?   

A: This is a stressful question for me because I was an art history major so I had like an "oh my god, all of them!" response. There are of course so many, but I think I'll narrow it down to the top two: Van Gogh, for sure – hugely hugely inspirational – and his sister-in-law, who was the one who did all the work to get his art seen in the world and made him famous. It's a really interesting story. After he died, he hadn't sold much work during his life and his sister-in-law did tons of work to collect his paintings, keep track of it all, and send it to people to get it seen. She did a lot for him. So I'd like to meet him but I'd also like to meet her!  

 Q: Would you encourage someone else to become an MCA member? 

A: Yeah, definitely! There's people that I have roped in to taking classes with me here and join me here. I'm always telling other artists that I know about it.  
Thanks so much for being a part of our community, Jessica. 
Spring Bouquet by Jessica Parsons Lomeli will be on view at the MCA as part of our Member Exhibition through November 8th. Don't miss the Opening Reception on Thursday, September 19th! Find more of Jessica's work at www.artbyjpl.com and on Instagram, @artbyjpl. 
MCA Membership starts at just $40 - join us or renew today!