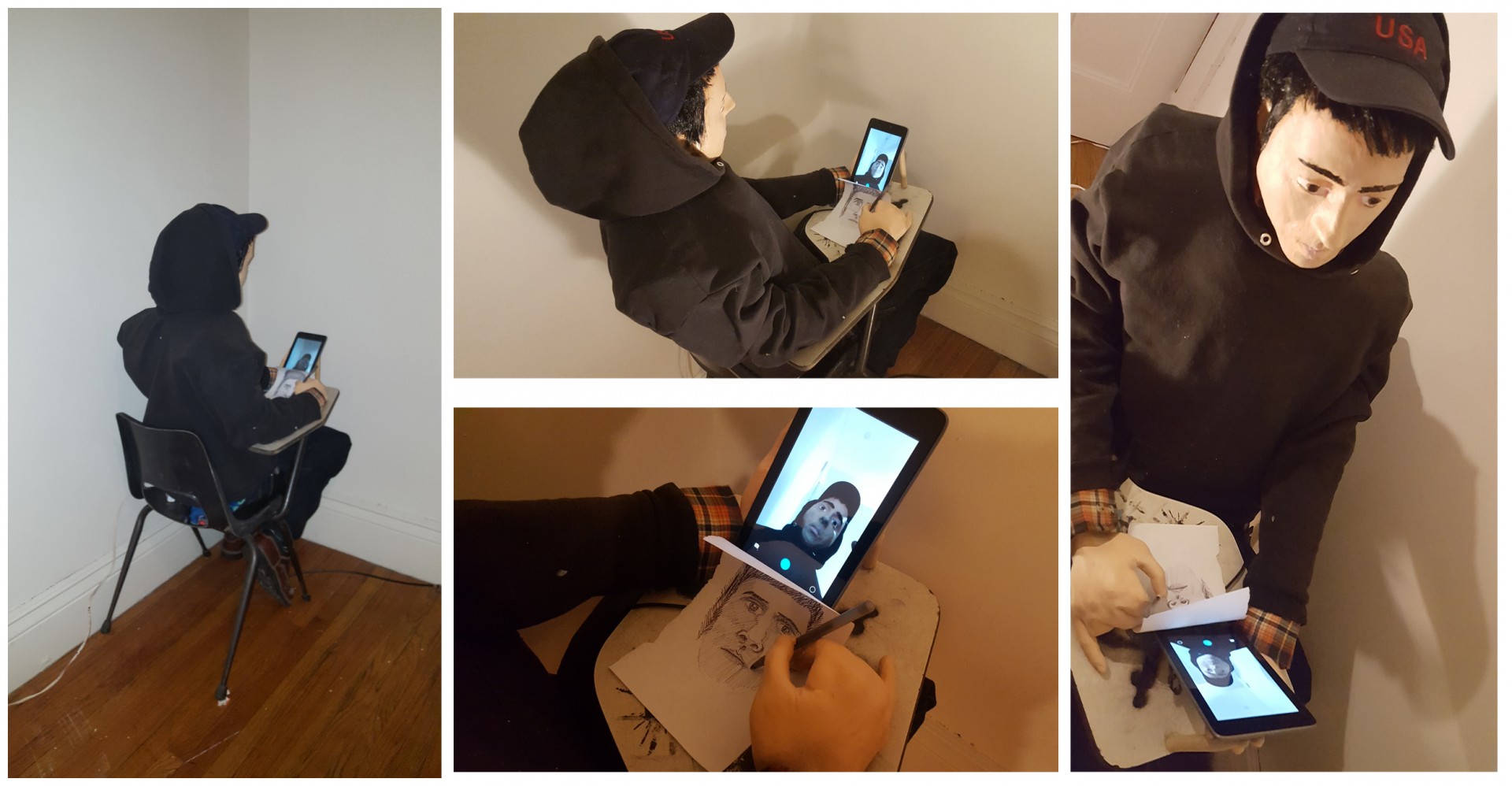 by Aneleise Ruggles | March 19, 2019
Artist Name:
Adric Giles 
Where are you from?
Somerville, MA
What is your primary artistic medium?
illustration / puppetry
Please talk a little bit about your artistic practice. What does your creative process look like? Where do you create your artwork? How long does one piece take to create from start to finish?
I sketch a lot with pencils, usually to music, then I commit to a draft. Once I like the form and composition I draft another - and then another. Next I start outlining and cross hatching the drafts with pens. After around the third draft I position them separately in my workspace where I can clearly view them for reference. Finally, I light a candle, say a little prayer and commit to the final draft.
How do you approach creating a self-portrait?
I start very loosely with pencil and I render the space between the eyes first.
Why do you choose to create self-portraits? Why do you think it is important for artists to create self-portraits?
Creating self portraiture is far less intimidating than creating a portrait of another person. If I draw a portrait of myself and the eyes are slightly crossed, my feelings won't be hurt, but if I make a portrait of someone else and it comes out all goofy and weird looking - it's a nightmare.
The act of self portraiture requires an examination of your physical and psychological state, I think this is super important for everyone to do from time to time, it's a great way to keep you familiar with yourself.
What role does social media play in your artistic practice?
I don't use social media.
How do you think a stranger may "perceive" you based on the work that you create?
I really have no idea how anyone else truly perceives the world around them besides how I perceive my own tiny world - but at the very least I hope they think my art looks cool!
How do you think a stranger may "perceive" you based on your social media profile(s)?
I can only hope the absence of a social media presence evokes a moment of contemplation as to how they choose to use social media, ya dig?

Learn More: