Please Note: MCA remains closed for lobby renovations and is unable to book any events that will take place before November 1, 2021.
Performances, recitals, concerts, film screenings, corporate events, conferences, receptions, and more can all be hosted as the Mosesian Center for the Arts! Whether for a performance or gathering space, MCA provides a welcoming, fully accessible, and state-of-the art venue located between downtown Boston and Metro West that offers ample free parking and nearby restaurants and retail. Upon reopening, an updated cafe and spacious new lobby will add to the venue's appeal!
For all rental inquiries, please fill out this form.
Mainstage Theater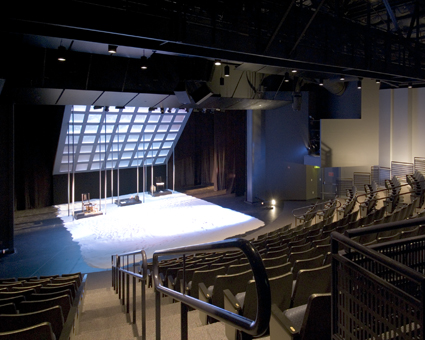 Our Mainstage Theater is our largest venue. It is a state-of- the-art proscenium theater with a thrust stage and a current maximum seating capacity of 339. The mainstage is extremely versatile, being great for performances, film screenings, concerts, and large meetings.

Stage Dimensions
Proscenium Opening Height: 18'
Proscenium Opening Width: 36 '
Primary Stage (depth from apron): 25'
Primary Stage (left to right): 40'
Wing Space: 12'L/R
Curved Thrust: (depth from center to proscenium) 16'
Stage Floor: Masonite over a sprung stage
Traps: Upstage Center 8' x 8'
Downstage Center 4' x 8' (no orchestra pit)
Control Booth: Third Floor
Seating: 339
Amenities: Theatrical sound and lighting package available
Black Box Theater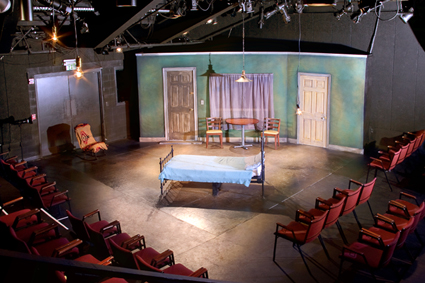 Our Black Box Theater is an intimate and versatile space that can accommodate a large variety of performances, rehearsals, receptions, corporate meetings, and more.

Black Box Dimensions: 34'7" X 36' – square
Black Box Floor: ¼" masonite over a sprung floor
Control Booth: Theatrical lighting and sound equipment package available
Audience Capacity: Up to 100 movable seats available depending on desired seating arrangement. Seating capacities differ for non-theatrical events.
Amenities: Theatrical lighting and sound equipment available. (Additional rental fees may apply.)
Rehearsal Hall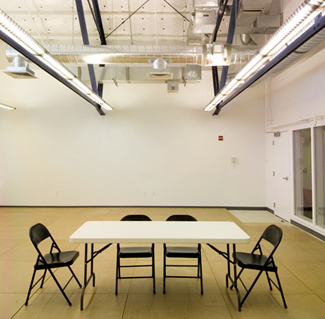 The Rehearsal Hall is a versatile rectangular space, featuring high ceilings and plenty of natural light. It is an ideal space for rehearsals, larger art classes, receptions, conferences, and training sessions.

Dimensions: 25'x 38' – rectangle
Capacity: 50-75 comfortably
Flooring: Rosco, MDF Sprung Dance floor
Mezzanine Classroom 
The Mezzanine Classroom is a delightfully light room and is perfect for workshops, meetings, training sessions, and small receptions.

Dimensions: 32′ x 16′
Capacity: 20-35 comfortably