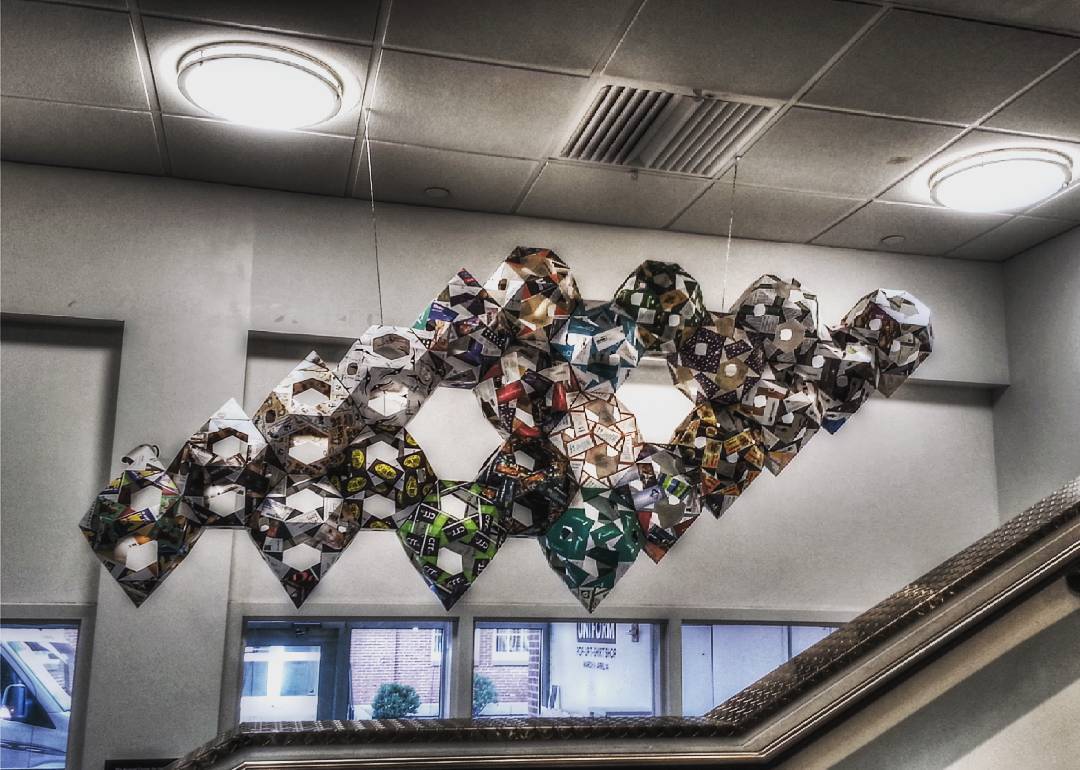 by Kimberly Thompson Panay | July 6, 2017

How long have you been making art in this style?  
For a bit longer then 3 years. Before that I was writing novels (in Russian of course) and designing 3D puzzles. There was a point though when I realized that everything built by people is Art. It's just that our materialistic, consumer based society does not provide enough justification for such a 'pointless' activity, unless you sell it for millions. People were effectively brainwashed into a way of thinking that their activity must be 'productive', in other words, produce tangible results, applicable to needs. Many succumb to this narrative subconsciously and concentrate on 'productive work'. This is how the concept of Deutilization came to life... The idea of it is that every single object created by humans is Art, cloaked by its practical implementation. So, to reveal its original intention, someone must take away their 'practical capability'. And as a result of this thinking, a line of deutilizing objects soon came to life.

Who are your influences? 
Richard Buckminster "Bucky" Fuller. His entire life is an inspiration and his concepts of geodesic dome and fullerene are effectively implemented in many of my objects, allowing them to exist and grow, especially Scissaurus and MeconoMorph. And Theo Jansen, creator of the Strandbeest. This man's approach to everything makes me wonder if he is for real... although in the summer of 2013 we met near his studio in Delft. He actually saw the beginning of the #MeconoMorph project!
Theo (picture above right with me) liked the idea very much and suggested I should involve more people who have the power and willingness to step in and help moving the project further. I followed his advice and today, three years later, MeconoMorph has reached its critical mass, and involved many people from all walks of life.  Artists, gallerists, business owners, journalists and museums bravely jumped in, allowing MeconoMorph to reach its current state of being. And now as you know :) two of the incarnations are in MCA Reclaimed Exhibition.
Where do you create your work?
Everywhere where I have a flat surface and some time. New orbs for MeconoMorph for example appear at my living room, in a car, at guests houses and hotels. 
Do you listen to music when working and if so, what type/who? 
Yes, and I am a classic rock fan. So Pink Floyd, Deep Purple, Led Zeppelin, Nirvana.
Do you have a favorite piece of art you've created or project you've worked on and why?
Most likely, MeconoMorph. First of all, the past tense is not applicable to it, only present continuous. It's constantly growing, advancing to new territories and involving new people. It's more a process than an object. I can relate it to coral reef. Waves of living organisms come and go, leaving their business cards to become its bricks, and the structure is growing... 
Learn more about Viktor here:
PINTEREST: www.pinterest.com/viktorgenel
INSTAGRAM: www.instagram.com/vgenel/
FACEBOOK: www.facebook.com/Amazing-objects-by-Viktor-Genel-332746620264673/