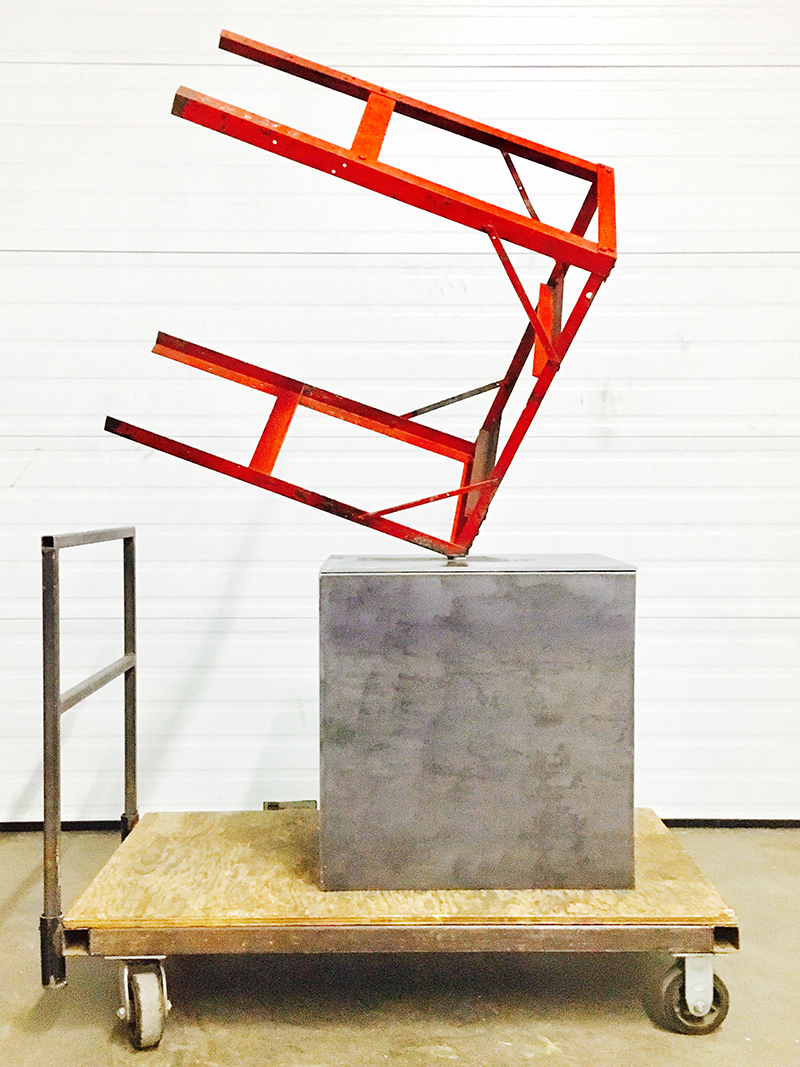 by Kimberly Thompson Panay | May 23, 2017
How long have you been making art in this style?
My early work, meaning my teenage years, was heavily influenced by abstract expressionists like Cornell, Nevelson, Morris Louis, Frankenthaler and Motherwell. However, in the last 15 years my work has become more minimal and more conceptual. For the most part, my work and process now transcend abstraction, conceptualism or most isms. I've been calling myself a post-minimal minimalist, but I'm not clear how to characterize my work to be honest. My intent is about stopping time and providing in insertion point for the viewer to witness a moment as well as providing a vehicle that transports the viewer into a sacred or private space.
Who are your influences? 
I am inspired by a huge number of artists both living and dead. I guess the bigger influences I would mention start with pioneers like David Smith, Louise Nevelson, Dorothy Dehner, Anthony Caro, Noguchi, Mark di Suvero, Donald Judd, John Chamberlain… and then living artists like Joel Shapiro, Richard Serra, Anselm Kiefer and more recently Nick Cave, Mark Dion, Tom Friedman and Roxy Paine. There is so much good work that has been done and is being done now. I have a huge number of influences and influencers.
Where do you create your work?
I am making art in my head pretty much everywhere and all the time. I have a red notebook where I make sketches of work I want to make or explore. Another place I concept art is at the steel year where I scavenge for cut-off pieces of steel that inspire and inform my work. And then I do the heavy lifting, literally and figuratively, at a workshop in Somerville called Artisan's Asylum. It is there where a lot of my work takes shape and is often spontaneously informed by the materials themselves. I am also beginning to rely on a growing number of partners like powder coaters, metal finishers and fabricators.
Do you listen to music when working and if so, what type/who? 
I work in a shared space so unfortunately I can't blast my music. There is also quite a bit of ambient noise with all the equipment and ventilation. Ear buds don't work for me given all the safety equipment I have to wear – welding helmet, eye & ear protection, respirator... If I were to listen to music while I was working it would include a mix of classical, opera and current artists like Guster, Violent Femmes, Oasis, Radiohead, Magnetic Soul, Jim James, Tears for Fears, Andrew Bird, Vance Joy…. Some would argue not all of these are "current" artists. I have very eclectic taste in music.
Do you have a favorite piece of art you've created or project you've worked on and why?
Hmm… I like a lot of the work I've done, but I suppose my short list would be comprised of my top 5 pieces, which are all different from one another and were, in all cases, the first in a body of work. The first sculpture, Pile, is the first sculpture I made using structural steel. This piece just simply works for me, it exemplifies my attempts to create work inspired by organic shapes--it demonstrates balance, weightlessness and it creates the sense that time has stopped and the observer is the witness.
Pile, 2015
Shrine No. 1, 2016
This was the first miniature piece I did. The idea of portable art is highly appealing to me and I am inspired by these objects, often religious, or sentimental, that people cherish.
Dancing Around the Table, 2017
Dancing Around the Table, is part of the Reclaimed show now at the Mosesian Center for the Arts. It is a site inspired installation with the central element, a found worktable, serving as both an offering and contemplative protagonist. This piece is flanked by a series of witnesses' in a ritual being acted out in the spirit of spring and rebirth. The acquired object was found in a recycle bin, considered trash by its previous owner. Our perception and sense of value of any piece of art is often determined by how it presented--art or trash? This was the first time in my work with steel that I incorporated a found object and represented it as it was found.
Red & Black Totem, 2016
This work is inspired by totemic structures and cultural icons. The contrasting colors are in the spirit of designs found in African textiles. While the form is informed by African tribal art. When I was younger I spent a lot of time with the photographer Carol Beckwith who has chronicled life in East Africa, she was also a big collector of African art. This friendship and early exposure to her collection has had a lasting influence on my work.
Bent, 2017
This is a recent piece I did earlier this year. Inspired by John Chamberlain's work, here I am looking at the consequences of destruction. Its the other end to my work that stops time, here we observe the result of a physical event and its transformation into an art piece.
Check out Peter's work in person at our Reclaimed Exhibition on view in our galleries from now until July 7.
 
LEARN MORE:
Website: www.peterbradleycohen.com
Facebook: www.facebook.com/pbradcohen
Instagram: @pbradcohen
Twitter: @pbradcohen