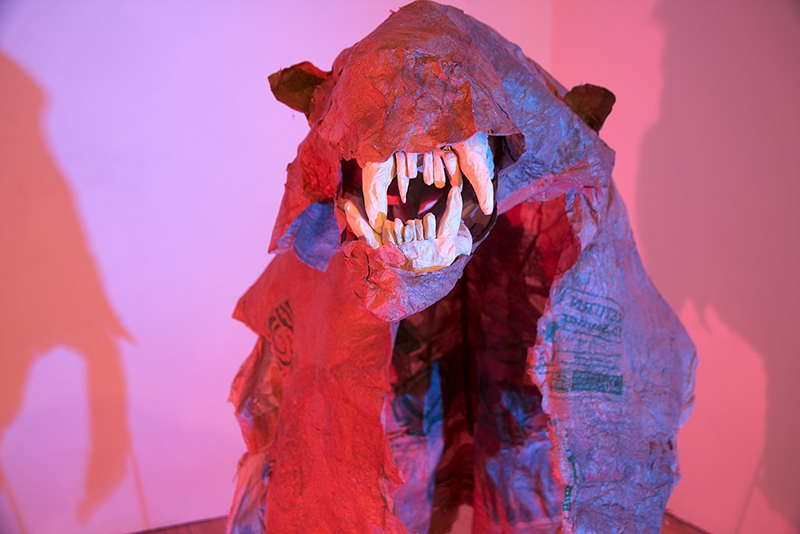 by Kimberly Thompson Panay | May 18, 2017
How long have you been making art in this style?
'Fear Bear' is from a series of sculptures that I created in 2014-15 using repurposed plastic bags. My work incorporates both painting and installation and has focused on our relationship to nature for over a decade.
Who are your influences?
I have been looking at a lot of female painters lately. I love the way Laura Owens seamlessly incorporates references from folk art, 1980's ads, photoshop and historic painting. I've been obsessed with Charline von Heyl's unique sense of painted space. I'm also thinking about ways that artists address environmental issues in unexpected formats, like Maya Lin's Empty Room and her last monument What is Missing?
Where do you create your work?
I create the physical work in my studio but the ideas are percolating all the time! I find walking in the woods and doing yoga activities that both restore and inspire me.
Do you listen to music when working and if so, what type/who?
I sometimes listen to music - been really into Led Zeppelin lately. I'll get a song in my head and listen to it on repeat 10+ times in a row while working - Van Morrison's Moonlight Mile was one of the most recent earwigs. I also LOVE podcasts: Risk!, Snap Judgement, Radiolab, This American Life and the Moth are my favorites.
Do you have a favorite piece of art you've created or project you've worked on and why?
A hard question, I think artists (myself included) often feel most connected to their recent projects and tend to favor them. I did just create an installation I was excited about: How I feel about Moun'ains at Groundwork! in New Bedford. Then painting always has growth potential, its a fun medium with endless puzzles and I love navigating its twists and turns.
Check out Jenn's work in person at our Reclaimed Exhibition on view in our galleries from now until July 7.
LEARN MORE:
Website: www.jennhoule.com
Facebook: www.facebook.com/jenn.houle.9
Instagram: www.instagram.com/therealjennhoule