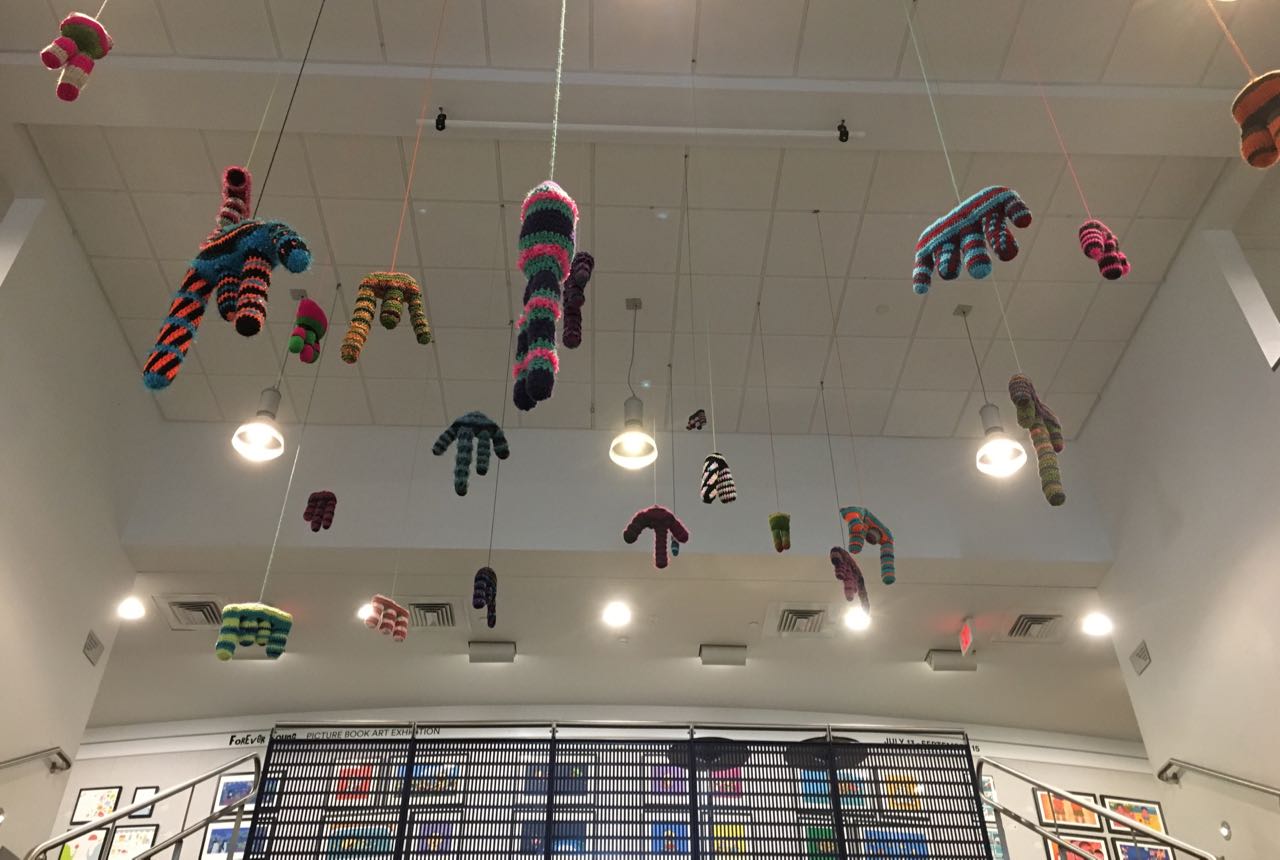 by Kimberly Thompson Panay | September 12, 2017
Emily's "Alien Clouds" are hovering over our main entry stairs as part of our Forever Young Picture Book Exhibition, delighting visitors and members as they enter the Center.
How long have you been making art in this style?  
I have been making crocheted and knitted works since 2013 when I decided to explore crochet as a form of art making during my senior year at Hampshire College. This piece was actually part of the series I made during that year for my thesis show. For that series in particular, I was thinking a lot about how textiles are seen as feminine because of their history and how that can still cause people to have biases against it as a medium.
Who are your influences? 
My two biggest influences are Yayoi Kusama and Nick Cave. I love their senses of color, patterning, texture and scale. I am very inspired by how their work can overwhelm all of your senses. I have also really been influenced by feminist art of the 60s-70s by artists such as Judy Chicago, Harmony Hammond and others. My more recent influences come from social media, especially Instagram. I have been introduced to so many different artists and crafters through it.
Where do you create your work?
Up until recently, I was splitting a lot of my working time between my home and my studio. Then in April I had a residency at the Vermont Studio Center and then June-July I had another residency at Gallery 263 in Cambridge and I fell out of the habit of making work at home. I just recently ended my time at Joy Street, which is where I had my studio for over two years. So, as of now, I am currently looking for a new place to make my works and start a new practice, which is exciting!
Do you listen to music when working and if so, what type/who?
I constantly listen to music when I am working.  If I am crocheting, knitting, spinning yarn or doing anything repetitive or meditative, I listen to very calming music such as downtempo electronic music. I love Bonobo and Gramatik, and older stuff too like Portishead and Sneaker Pimps. If I am on my feet and installing, I really like to listen to Funk. I love Earth Wind and Fire, and Jackson 5. Basically, anything I can dance to while I am working is good with me!
Do you have a favorite piece of art you've created or project you've worked on and why?
I definitely do not have a favorite piece but I feel, like many artists, most connected with my most recent work. The work I made over the summer was very different from my previous work in that I did not use any knitting or crocheted elements. I think overall though, the work is still very obviously mine and very related aesthetically and conceptually to my previous work. Now that I have been making art for a few years I feel like my work is starting to form a real timeline, which is very interesting to me. So, I guess you could say that my favorite project is the overall and ongoing project: the interconnectedness of all the work that will continue to grow and translate to new forms and ideas. 
Learn more about Emily here:
WEBSITE: emilybrodrick.com
FACEBOOK: facebook.com/emilybrodrickart
INSTAGRAM: @emilybrodrickart