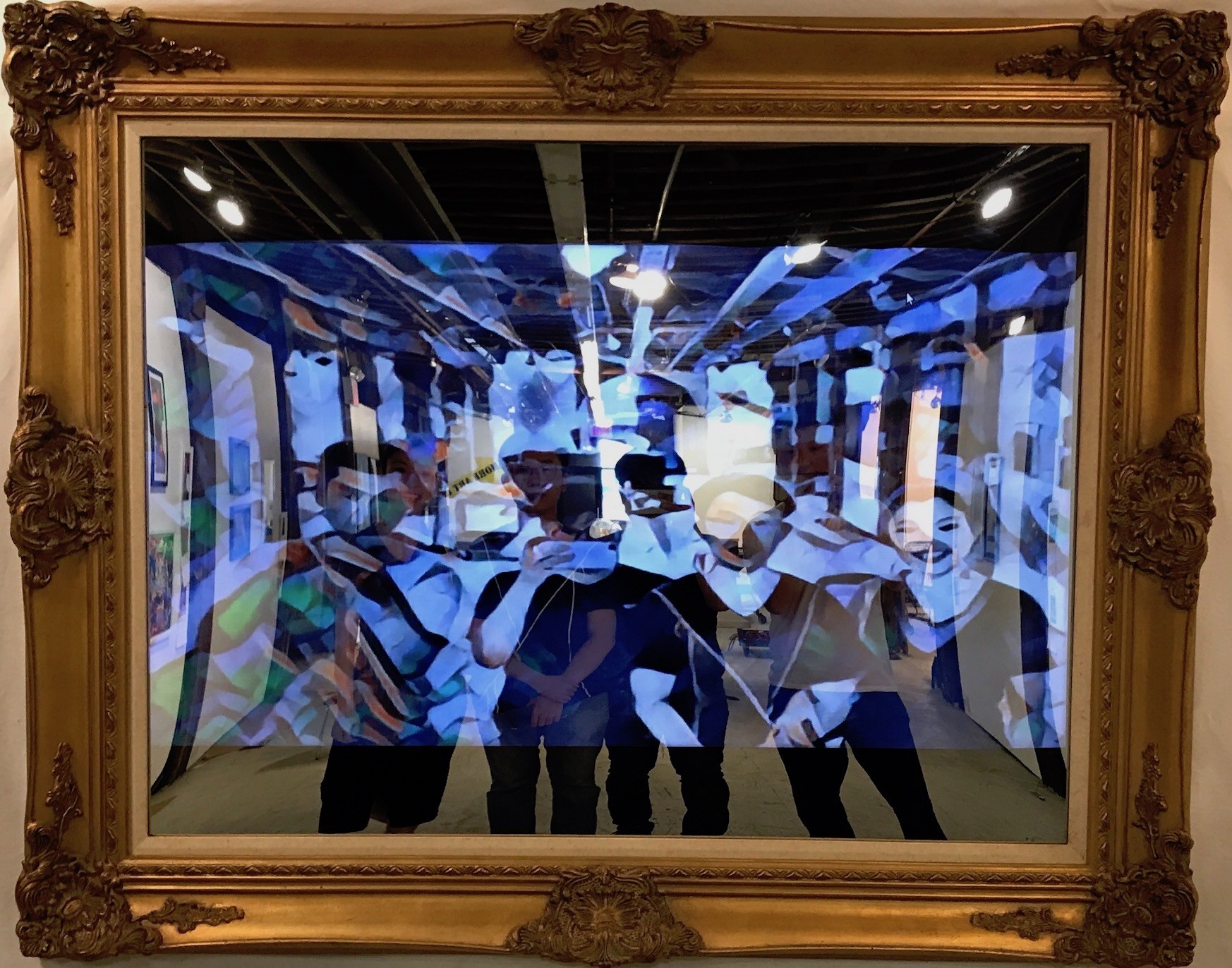 by Aneleise Ruggles | March 7, 2019
Artist Name:
Dongze Huo
Where are you from?
Elmhurst, NY
What is your primary artistic medium?
mixed Media & New Media
Please talk a little bit about your artistic practice. What does your creative process look like? Where do you create your artwork? How long does one piece take to create from start to finish?
Binary is an art installation by using traditional oil painting exhibition frame as appearance, but the medium of content is a projection on screen instead of canvas. Content showing dynamically on the screen is generated by AI program inputting from video stream captured by indoor or outdoor live camera.
At first glance, the installation would look like a traditional oil painting, but as getting closer, the audience will notice the ground fact of Binary installation and find themselves projected on the screen. I created this artwork at my studio in New York. For this installation, it took us about 6 months to complete.
How do you approach creating a self-portrait?
Because living in metropolitan city, I have been aware of the double-face of people. in the contrast between social face in working life against private face in deep inner mind. I'm so curious about the character of the double-face and cause of shaping, because the private face is hidden from appearance and might dramatically different from social face. That is my approach creating a self portrait.
Why do you choose to create self-portraits? Why do you think it is important for artists to create self-portraits?
It is kind of self-investigating in our modern life. Because everyone need self-examination and investigation especially in the fast lane in metropolis.
What role does social media play in your artistic practice?
Social media plays a self-promotion and publicity roles in my artistic practice.
How do you think a stranger may "perceive" you based on the work that you create?
They may feel this work have a big contrast, so they might think the artist is have a strong contrast between inner personality and appearance.
How do you think a stranger may "perceive" you based on your social media profile(s)?
They may think this artist don't post daily moment frequently, a little lazy and emotional. 
Learn more: