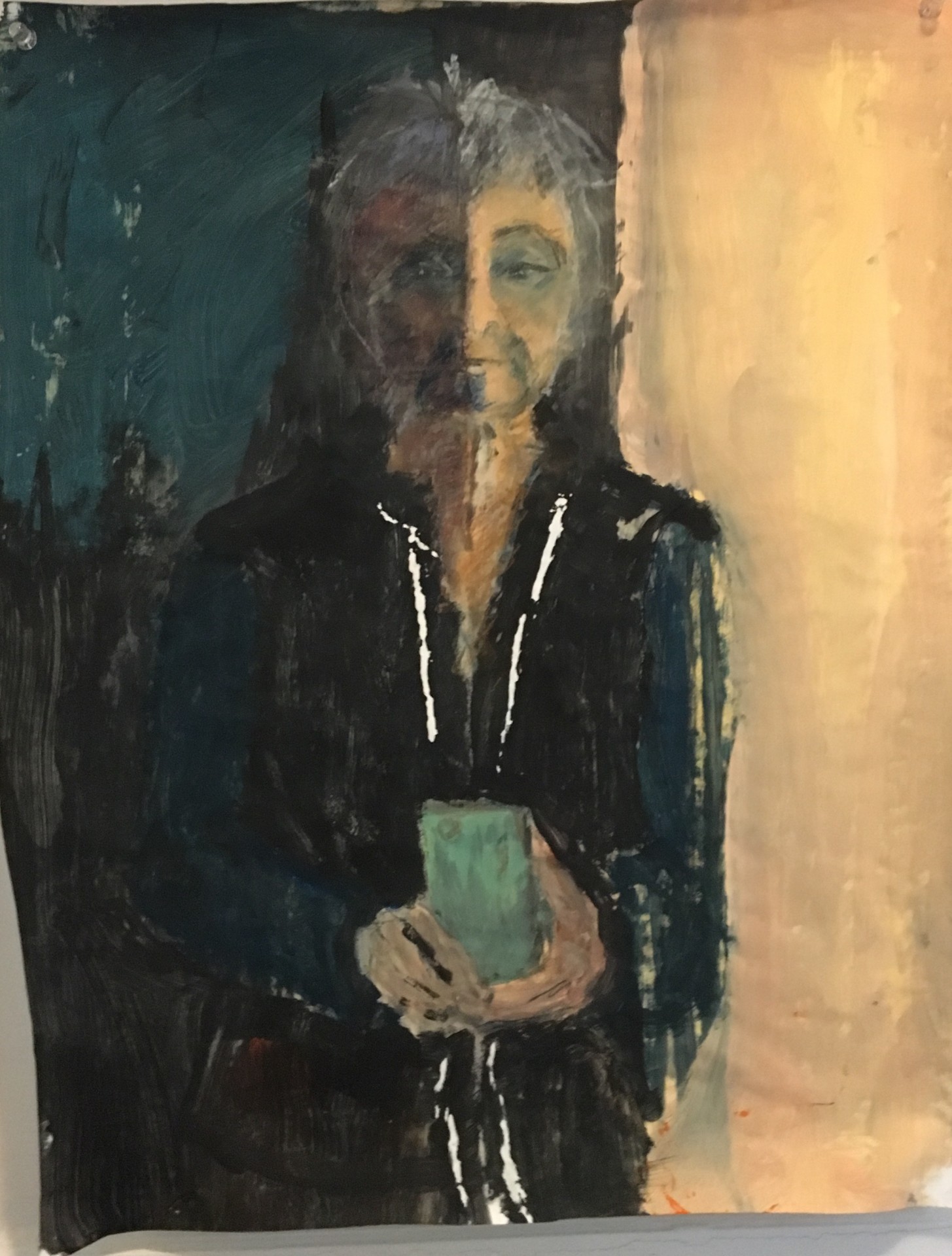 by Aneleise Ruggles | March 11, 2019
Artist Name:
Susan B. Jones
Where are you from?
Watertown
What is your primary artistic medium?
Paint and Papier Mache
Please talk a little bit about your artistic practice. What does your creative process look like? Where do you create your artwork? How long does one piece take to create from start to finish?
My creative process looks a lot like me riding my bike, swimming laps, kayaking, sitting around playing free cell...letting an idea burble around in my brain.  Then suddenly, often in the middle of a water aerobics class while I'm bouncing up and down and spacing out, I'll figure out how to do what I want to do.  Holding onto this knowledge until I get to someplace to embody it is a big problem.  I'm almost 78 and sometimes going from one room to another I lose my train of thought.  Anyway once I know in my body how to do what I want to do, I do it.  Some things take a few hours or a few days, somethings take year.  The piece in this exhibit was done as a break in an afternoon of doing other things, an hour? maybe two?
How do you approach creating a self-portrait?
I look in a mirror.  If I don't have any other ideas or subjects, I'll take a crack at what I see. Over the last 50 years or so, I've done maybe six self portraits, a few in my mid and late 20s and a few since I retired.  I also sometimes incorporate me in larger paintings, but I'm not sure that's a self-portrait. 
Why do you choose to create self-portraits? Why do you think it is important for artists to create self-portraits?
When I first retired and was getting back into making art, I decided to do a self-portrait sketch every day.  This didn't last very long.  The sketches were way too scary.  I think I can only do self-portraits that interest me and that I like when I am engaged with subject as an object in space defined by light and dark and shapes and not as a subject: me.  I find it very difficult to do portraits of people I care about: my husband, my kids, my friends, ... I'm too involved with them, just as I am too involved with myself most of the time.  But when I'm not...
How do you think a stranger may "perceive" you based on the work that you create?
I have absolutely no idea.  I often wonder about this. I had a dream that two of my former supervisors at MIT were talking about me and one said to the other, I thought it was only a phase, but I guess this what she really is like.
How do you think a stranger may "perceive" you based on your social media profile(s)?
The other day I was riffing on bird life with a FB friend. We went on and on sharing stories about herons and ospreys and kingfishers, bird wars and bird watching.  After a while the FB friend who had started the thread, asked me if I was a real friend of my bird riffing partner. No, I'd never met him except on FB. She is a look-in-the-eye friend of both of us separately.