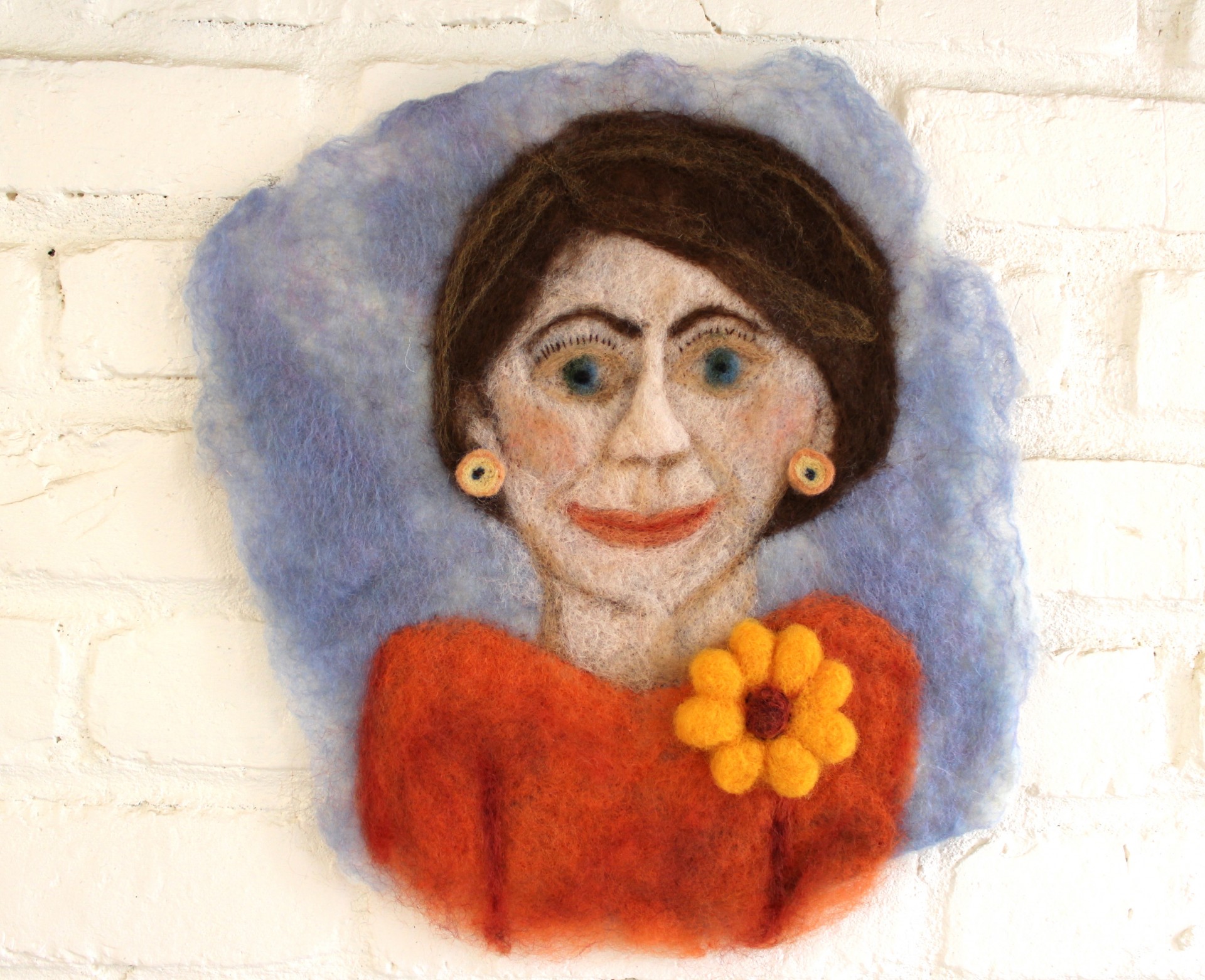 by Aneleise Ruggles | March 12, 2019
Artist Name:
Cindy Kennelly
Where are you from?
Sudbury, MA
What is your primary artistic medium?
Wool! Wool! Wool!
Please talk a little bit about your artistic practice. What does your creative process look like? Where do you create your artwork? How long does one piece take to create from start to finish?
My practice varies depending on the method of felting I choose. In this portrait, I began by wet felting the canvas and outline. This consisted of laying out the wool, wetting it with soal and water and then agitating (rolling) the fibers as they entangle. Once the canvas was dry, I applied the details by adding wool with special barbed needles that "poke" the wool into place. Think of it as painting with wool.
How do you approach creating a self-portrait?
I think about what feelings I want the portrait to portray. In this piece I wanted to show that I am kind and loving and approachable.
Why do you choose to create self-portraits? Why do you think it is important for artists to create self-portraits?
Creating a self portrait allows you to reflect on your life. Are you happy? Do you want to smile? I wanted my portrait to be smiling and portray a sense of peace. In this piece I purposefully wanted my sweater to be soft and fluffy. Wouldn't you want to hug this person?  Does she look interresting? Would you like to sit and chat with her?  I hope so!
What role does social media play in your artistic practice?
I enjoy gaining feedback from a supportive artistic community on my work. I also LOVE to see what other artists share. I learn so much by viewing the work of others.
How do you think a stranger may "perceive" you based on the work that you create?
My wish is that people see a content and kind person when they view my work. It is such a joy to entangle the soft fibers of the wool.
How do you think a stranger may "perceive" you based on your social media profile(s)?
I hope that people see my love of wool, of color, and of the world around me.