Making Comics - Summer Online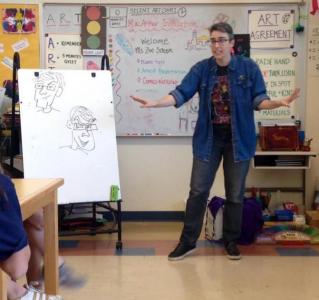 Making Comics explores the basics of comics as a medium - from idea to execution guided by teaching artist Zoe Schein. Focus on both storytelling and drawing skills--develop stories and characters, build and draw figures, environments, and actions--all in support of a story. Whether comedic or dramatic, fictional or true-to-life, poetic or action-driven, participants learn the skills to tell their stories their way. This class may be repeated to continue gaining experience and skill. Projects vary each term.
M/$185 NM/$200
Rising 3rd-Rising 8th Graders
Tuesdays and Thursdays, 1:30 - 3:30 pm
8/18, 8/20, 8/25, 8/27
Zoe Schein is a freelance illustrator, writer, and educator hailing from Central Illinois and living and working in Boston, Massachusetts. Schein's artistic work emphasizes visual storytelling and narrative, with particular emphasis on comics, integrated graphic essays, pen-and-ink illustration, and printmaking. She has developed and taught courses in drawing, making comics, introductory animation, creative writing, and memoir writing, and has assisted in workshops centered on filmmaking and digital storytelling. She delights in teaching.
Youth
Visual Arts
(Gr 3-8)
Tuesday, Thursday 01:30 pm - 03:30 pm
August 18 - August 27, 2020
M/$185.00 | NM/$200.00