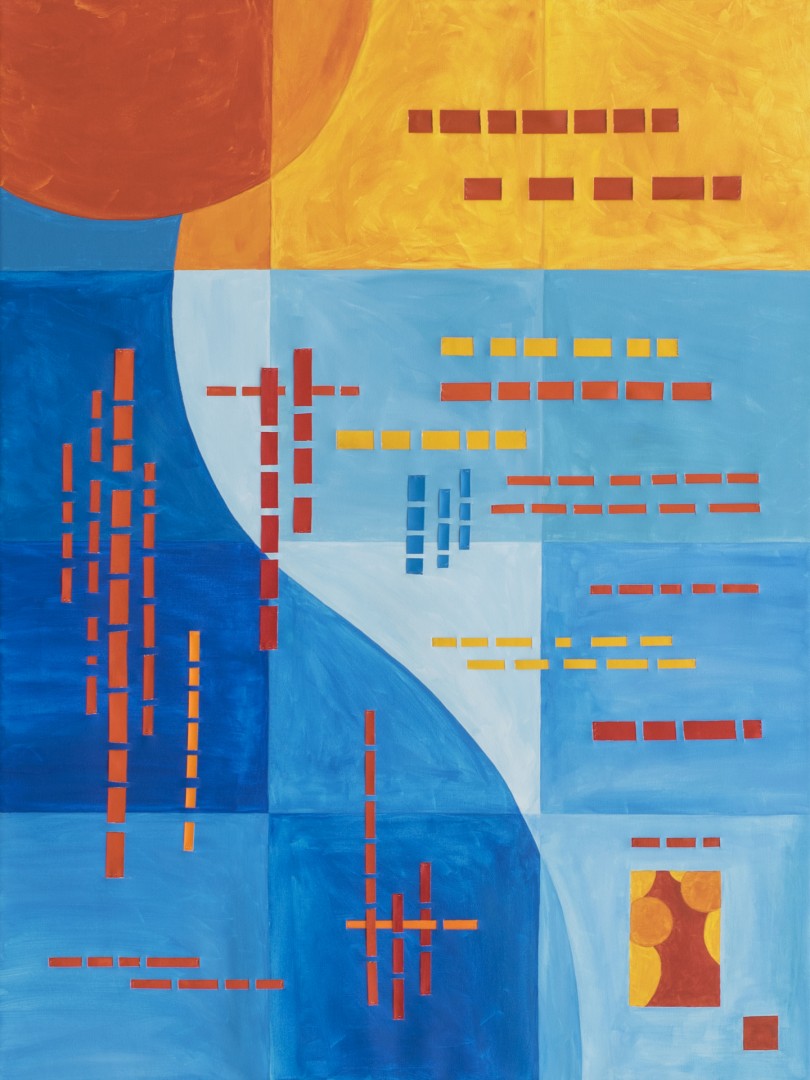 by Kimberly Thompson Panay | June 30, 2017

How long have you been making art in this style?
I have always been fascinated by the exploration of the human form and psyche utilizing various mediums. In 2000, I began plasma-cutting and welding metal which led to my experimentation with simplifying and stylizing particularly the female body. The studies began influencing my paintings and my signature forms evolved.
Story-telling is also my passion. Initially I focused on the titles of my artwork for the narration and at times I incorporated words into my paintings. However, including the words felt too personal and exclusive, so in 2014 I created a language of bars to represent words and punctuation. I encourage observers to use their own words to tell the story for an individualized experience in their language of choice. Also during this time, I began cutting the canvas and weaving elements into it to add dimension to the flat surface to distinguish it from computer-generated graphics.
Who are your influences?
Exploring the female identity is the thread weaving the majority of my artwork together. I grew up with three older sisters and had two influential grandmothers. Both of my grandmothers were feminists; one was an activist and the other a multi-talented swimsuit and textile designer.
After I'd pushed the limits of what I could do with crayons and chalk, my father introduced me to acrylic painting. As a child, I learned the skills to build whatever I wanted in his wood shop. He also taught me how to solder silver which sparked my interests in jewelry-making and welding.
Overall, I am impressed by the contemporary art scene in the sense of the freedom to explore. Beginning with my first exhibition of miniature Venuses of polymer clay in Zurich and continuing to today, as seen in my larger than life-sized Venus of clothing and textiles (installation Venus of Adams Square), my work is most influenced by historical figures and works. Both the Venus of Willendorf figurine and Niki de Saint Phalle's Nanas have inspired my stylization of the female form and "Venus" theme. In addition, Ombra della Serra (Shadow of the Evening), the stylized long and thin Etruscan statuette, and Alberto Giacometti's elongated interpretations of the sexes have affected my depictions. 
Where do you create your work?
Although I have a designated studio space in my home in Los Angeles, depending on the project, I utilize all indoor and even outdoor spaces at my disposal. I have built collapsible drafting tables that can be set-up in 3 rooms to simultaneously work on separate paintings. For a recent installation, I began building the huge Venus framework with tomato cages in my backyard, I moved those into my kitchen and built the "throne" in my living room. I had materials and work tables in my studio, hallway, and dining room.
Most of my metal sculptures are welded of scrap steel at my uncle's 14-square mile ranch in Central Oregon. January - March I participated in an artist residency in Zurich, Switzerland, and built a studio within an art gallery where I publicly created mixed media paintings for an exhibition. In May I was in Georgia (the country) as part of another artist residency. We painted outdoors in a public square, propping our canvases on walls or pedestals and sitting on stools. I do not feel confined to work in a single location.
Do you listen to music when working and if so, what type/who?
Depending on what I'm working on, I often listen to the radio (NPR news / KCET) and an eclectic mix of music. When I need to deeply concentrate, especially when I'm brainstorming, writing or painting straight lines, I listen to classical piano or guitar or radio (kMOZART). Otherwise, I tend to listen to indie or alternative rock… and sometimes blues, folk, and world music. I rarely work in silence.
Do you have a favorite piece of art you've created or project you've worked on and why?
My favorites vary based on current themes or the process to complete them; I do not have a single preferred one. Often it is difficult for me to determine that a work is finished, I might tweak and rework it and even return to it at a much later date; and that challenge to reach the point of satisfaction results in a favorite. At other times a favorite is the clearly, easily completed work.
After a mass shooting in Santa Barbara, I was very traumatized by the news. I created a mixed media piece Seven Days A Week about gun violence in the U.S. It helped me cope and was a favorite for a while. Similarly, I painted a series of paintings related to the kidnapping of the 200 Nigerian school girls which was cathartic.
My favorite metal sculptures are the first one I made using a plasma-cutter and the largest one that I made without any assistance. The largest mixed media painting I created in Switzerland, RED: The Power of Passion, was displayed in the gallery's front window for the exhibition. I had worked and reworked it and was under a lot of pressure to finish it… in the end it was a masterpiece.
Recently, in Georgia, I painted Sunset to complement Sunrise. Because Sunrise is a favorite painting of mine, I had high expectations for Sunset. However, the residency provided supplies which were not consistent with ones with which I work. Other artists loaned me brushes and paints that they brought. The sharing and sense of community was so powerful that I loved the end result.
Jana's work is on view from July 10 to October 31, 2017 in the "Grow Gallery" large-scale installation at the intersection of Arsenal Street and School Street on the Arsenal on the Charles Campus in Watertown, MA. Learn more about the installation here: www.mosesianarts.org/grow-gallery 
Learn more about Jana here:
WEBSITE:  www.janacharl.com
FACEBOOK: www.facebook.com/jana.charl