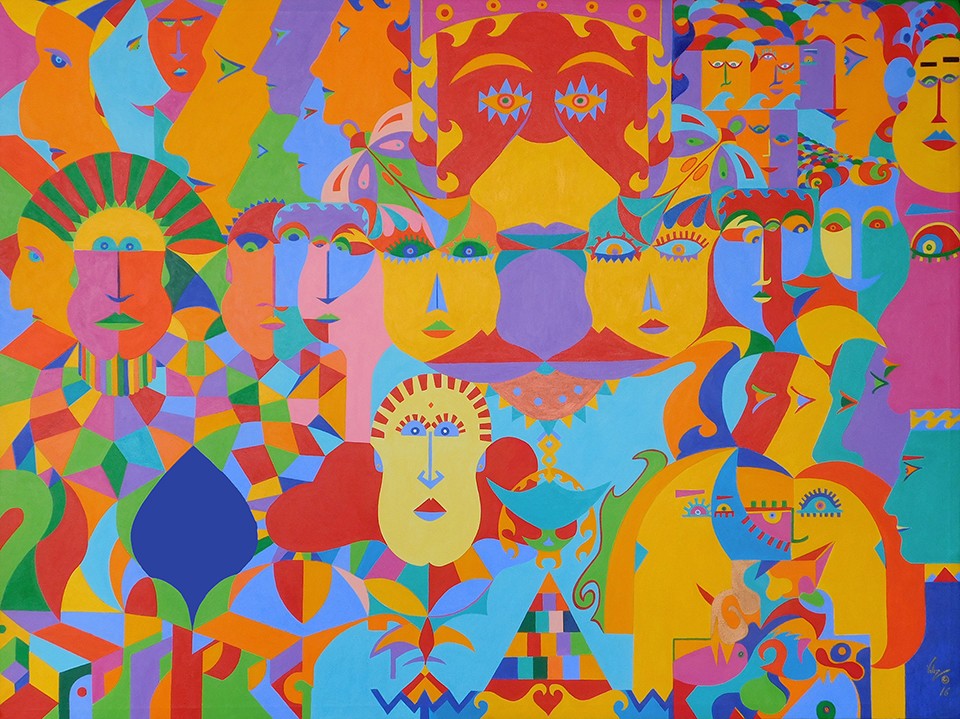 by Kimberly Thompson Panay | June 30, 2017

How long have you been making art in this style?  
I've been creating art since I was 6 years old. When I started creating works of art they reflected my dreams of the universe and the ever-changing earth from both natural and human causes. Over time my works have gone from exploring the universe and the environments to the people who have impacted history and the environment.
Who are your influences?
Two of my biggest influences are Diego Rivera and Omar Rayo. Rivera's creations were so real and showed the truth and humility of the people of Mexico. Although the outcome of our paintings are extremely different, I always hoped in some ways that I would be able to capture people and places in a way that tells the viewer what I am truly seeing and feeling. Omar Rayo was a master. I was an apprentice to him from 20-25 years old. He was able to bring together geometric images in a harmonious way and was a pioneer in combining colors and figures. He always told me how even though he could see other artist's ideas within my works, that my works were in a category of their own and completely unique. I also believe my first experience seeingGuernica by Pablo Picasso at the Museum of Modern Art in Manhattan was hugely influential in experimenting with facial silhouettes and more abstract figures.
Where do you create your work?
I have a studio in my house where I create work. The studio looks out into our backyard which makes me feel like I'm in nature instead of the suburbs.
Do you listen to music when working and if so, what type/who?
Yes, I always listen to music while I paint. I usually listen to  jazz and occasionally I will listen to classical music. I enjoy music without lyrics. I find that what's important to me while painting is hearing the layers of instruments, not hearing the messages of the music through lyrics. It also helps my ideas and work flow.
Do you have a favorite piece of art you've created or project you've worked on and why?
My favorite piece of art I've ever created was El Varon y La Dama (The Man and The Lady). It was the first time I created a piece of art that told a story through rotating the canvas. I usually have a very clear idea of the direction and design of each piece of work, however with this piece, I got stuck. So I decided to turn the canvas 90 degrees on the easel. As I looked at what I had created from a different perspective, I started to see images that I didn't realize already existed in the painting. I then added onto the painting from that angle, and then continued to rotate the painting until there was a story created from each of the 4 rotations of the canvas. From that creation stemmed Piramide, El Movimiento, Evolución, and Untitled.
Diego's work is on view from July 10 to October 31, 2017 in the "Grow Gallery" large-scale installation at the intersection of Arsenal Street and School Street on the Arsenal on the Charles Campus in Watertown, MA. Learn more about the installation here: www.mosesianarts.org/grow-gallery