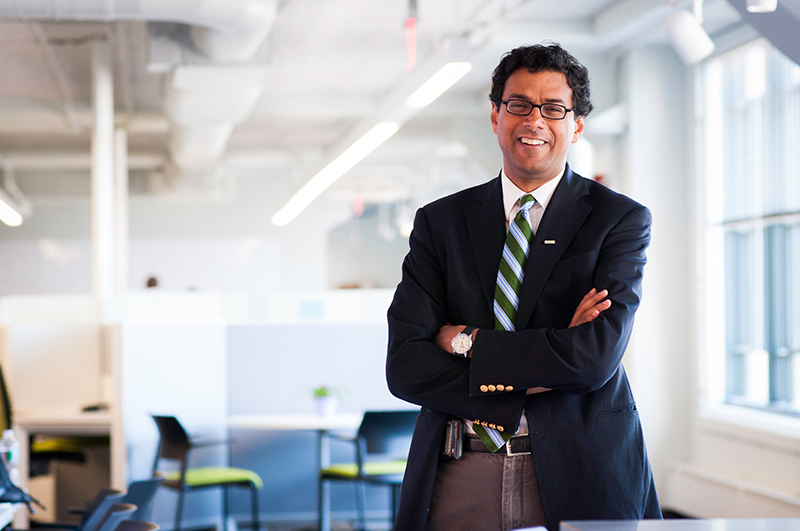 by Kimberly Thompson Panay | June 14, 2017

When we first announced that Atul Gawande would be our Mosesian Award honoree I wasn't familiar with his work (perhaps you may be in the same position?). And then, it was as if I couldn't open a paper or magazine with out seeing his name either cited or quoted. He was suddenly everywhere from the Boston Globe to the Economist to NPR.
As the excitement for our 2017 Mosesian Award Gala builds, I decided to try to get to know Atul a bit better and thought I would take some time to share.
By all standards, Atul Gawande is an accomplished man. He is a prolific writer and is often cited or quoted for his approach to end of life care. He is an MD, MPH, is a surgeon, writer, and public health researcher. He practices general and endocrine surgery at Brigham and Women's Hospital. He is Professor in the Department of Health Policy and Management at the Harvard T.H. Chan School of Public Health and the Samuel O. Thier Professor of Surgery at Harvard Medical School. He is also Executive Director of Ariadne Labs, a joint center for health systems innovation, and Chairman of Lifebox, a nonprofit organization making surgery safer globally. And the list goes on...
I've been reading, or rather listening on my iPhone (the by product of having two toddlers under the age of four) to, the book "Being Mortal" by Atul. Something that really struck me early on was his statement that "Death is not a failure." Simple, but profound.
Failure.
Failure is a scary word, regardless of whether you are contemplating your humanity or just trying something new like taking a painting class or standing on stage for the first time. As I think about Atul's message about embracing end of life decisions and overcoming fear as he does in "Being Mortal" through candid stories of folks not unlike ourselves, I can't help but think about how overcoming fear is a lesson that serves us well in all of our lives decisions. You have to take the first step of putting your brush to paper to experience the beauty of creating. You have to step up on stage to feel the exhilaration of the crowd responding.
As Roberta Miller, our Executive Director, so eloquently notes we are excited to celebrate Atul and his continuing contributions to helping us explore the nature of our humanity and how to best care for each other. We hope to see you on June 27 at the Gala to celebrate Atul and each of you, who continue to support our efforts to bring together diverse communities to reimagine ourselves, create joy and beauty, and be a place that invites and supports the connections that give our lives meaning.
If you haven't already purchased your tickets, you can get your tickets here.