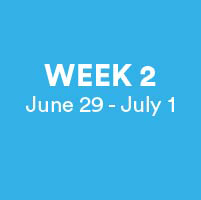 Printmaking, the original way of making a stamp to create multiple copies of an image, is a fascinating artform that is easier than it looks! Participants in this week-long program draw, carve, assemble, and print their own images through techniques ranging from relief block printing to collograph and monoprinting. (Don't know what those words mean? You will!) Young artists have the opportunity to print on various kinds of paper and even fabric. This program culminates in a program-wide, multimedia showcase and exhibit on Thursday for family and friends.
Student Showcase and Exhibit:
Thursday, July 2, details will be sent at a later date
EXTENDED DAY is available for all ages!
8:00 am - 9:00 am, $20 per day | 4:00 pm - 6:00 pm, $30 per day.
No afternoon extended day on Thursday July 2.
To register please visit mosesianarts.org/education/info. Complete online extended day registration form at least 24 hours in advance.
Need a HALF-DAY option? No problem! Please contact registration@mosesianarts.org for details on how to register.
Youth
Visual Arts
(Gr 5-8)
Mondays, 09:00 am - 04:00 pm
June 29 - July 02, 2020
M/$335.00 | NM/$350.00