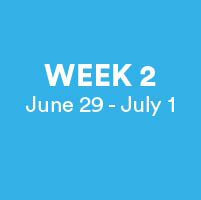 Ever wanted to write your own hit song? Explore genres of music, instruments, and singing in this wonderful program where participants write and perform their own unique songs! Musicians and writers of all experience levels are welcome. Participants create songs as an ensemble and on their own with the guidance of a professional musician, then share their original numbers in a program-wide, multimedia showcase and exhibit on Thursday for family and friends.
Student Showcase and Exhibit:
Thursday, July 2, details will be sent at a later date
EXTENDED DAY is available for all ages!
8:00 am - 9:00 am, $20 per day | 4:00 pm - 6:00 pm, $30 per day.
No afternoon extended day on Thursday July 2rd.
To register please visit mosesianarts.org/education/info. Complete online extended day registration form at least 24 hours in advance.
Youth
WCT
(Gr 5-8)
Mondays, 09:00 am - 04:00 pm
June 29 - July 02, 2020
M/$335.00 | NM/$350.00