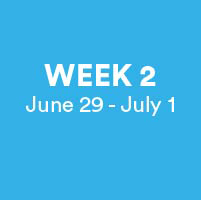 There are more ways to add color to clay than just glaze! Join this exploratory program where colors mix, combine, and create patterns within the clay itself. Create sculptures, tableware, and more in vivid color combinations. Whether this is the first time working with clay or part of a lengthy clay journey, participants gain skill and demonstrate their creative spirit. This program culminates in a program-wide, multimedia showcase and exhibit on Thursday for family and friends.
Student Showcase and Exhibit:
Thursday, July 2, details will be sent at a later date
EXTENDED DAY is available for all ages!
8:00 am - 9:00 am, $20 per day | 4:00 pm - 6:00 pm, $30 per day.
No afternoon extended day on Thursday July 2.
To register please visit mosesianarts.org/education/info. Complete online extended day registration form at least 24 hours in advance.
Youth
Visual Arts
(Gr 3-4)
Mondays, 09:00 am - 04:00 pm
June 29 - July 02, 2020
M/$335.00 | NM/$350.00