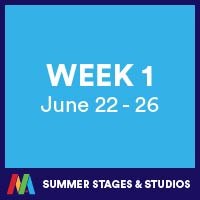 Rules of reality do not apply in this exciting program! Explore a cloud world full of unicorns and narwhals or a creepy ghost town full of zombies. Participants delve into their favorite stories, illustrate fantasy the way they see it, and create their own imaginary worlds. Bring a favorite book, story, or story idea as inspiration for original artworks. This program culminates in a program-wide, multimedia showcase and exhibit on Friday for family and friends.
Student Showcase and Exhibit:
Friday, June 26 details will be sent at a later date
EXTENDED DAY is available for all ages!
8:00 am - 9:00 am, $20 per day | 4:00 pm - 6:00 pm, $30 per day.
No afternoon extended day on Fridays.
To register please visit mosesianarts.org/education/info. Complete online extended day registration form at least 24 hours in advance.
Youth
Visual Arts
(Gr 5-8)
Mondays, 09:00 am - 04:00 pm
June 22 - June 26, 2020
M/$415.00 | NM/$430.00