Sculpture Molded, Carved, and Assembled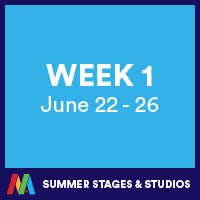 Create work that stands on its own, hangs from a wall, or appears to grow out of the floor! Participants carve material away, assemble found objects into original sculptures, and learn to use molds in this week dedicated to sculpture! Prepare to get dirty - sculpture is often a full body experience. This program culminates in a program-wide, multimedia showcase and exhibit on Friday for family and friends.

Student Showcase and Exhibit: Friday, June 26, details will be sent at a later date

EXTENDED DAY is available for all ages!
8:00 am - 9:00 am, $20 per day | 4:00 pm - 6:00 pm, $30 per day. No afternoon extended day on Fridays.

To register please visit mosesianarts.org/education/info. Complete online extended day registration form at least 24 hours in advance.

Youth
Visual Arts
(Gr 3-8)
Mondays, 09:00 am - 04:00 pm
June 22 - June 26, 2020
M/$415.00 | NM/$430.00