Drawing Worlds Real and Imagined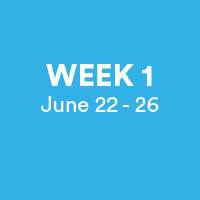 Pick up a pencil and create a new world before your very eyes! Participants in this program both build drawing skill and utilize their creativity. They document the known world around them and conjure new landscapes from their imagination. Participants hone drawing skills as they explore other cultures and create their very own. This program culminates in a programwide, multimedia showcase and exhibit on Friday for family and friends.

Student Showcase and Exhibit: Friday, June 26 details will be sent at a later date

EXTENDED DAY is available for all ages!
8:00 am - 9:00 am, $20 per day | 4:00 pm - 6:00 pm, $30 per day. No afternoon extended day on Fridays.

To register please visit mosesianarts.org/education/info. Complete online extended day registration form at least 24 hours in advance.

Youth
Visual Arts
(Gr 3-4)
Mondays, 09:00 am - 04:00 pm
June 22 - June 26, 2020
M/$415.00 | NM/$430.00