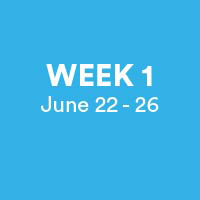 In this favorite WCT program, participants become screenwriters, directors, and movie stars as they write and produce their own short films, all in just one week! From camera angles to cameos, from b-roll to bloopers, participants in this program get the 'on set' experience as they work as a team to make their movies. Participants give family and friends a peek into their process in a showcase on Friday afternoon, and the final films are later distributed via email.

Student Showcase and Exhibit: Friday, June 26 details will be sent at a later date

EXTENDED DAY is available for all ages!
8:00 am - 9:00 am, $20 per day | 4:00 pm - 6:00 pm, $30 per day. No afternoon extended day on Fridays

To register please visit mosesianarts.org/education/info. Complete online extended day registration form at least 24 hours in advance.

Youth
WCT
(Gr 3-4)
Mondays, 09:00 am - 04:00 pm
June 22 - June 26, 2020
M/$415.00 | NM/$430.00