ArtVenturers - Superheroes and Supervillains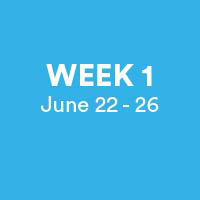 Each week, ArtVenturers explore a theme through theatre, visual arts, and music! It's a bird...it's a plane...it's young artists as their favorite heroes and villains! Participants in this actionpacked program imagine their own super abilities like mind reading or invisibility, design costumes to disguise their identity, and work together to save the world! This program culminates in a program-wide, multimedia showcase and exhibit on Friday for family and friends.

Student Showcase and Exhibit: Friday, June 26, details will be sent at a later date

EXTENDED DAY is available for all ages!
8:00 am - 9:00 am, $20 per day | 4:00 pm - 6:00 pm, $30 per day. No afternoon extended day on Fridays.

To register please visit https://bit.ly/2PInpak. Complete online extended day registration form at least 24 hours in advance.

Need a HALF-DAY option? No problem! Please contact registration@mosesianarts.org for details on how to register.
Youth
Interdisciplinary
(Gr K-2)
Mondays, 09:00 am - 04:00 pm
June 22 - June 26, 2020
M/$415.00 | NM/$430.00