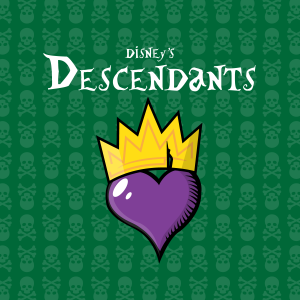 Imprisoned on the Isle of the Lost – home of the most infamous villains who ever lived – the teenaged children of Maleficent, the Evil Queen, Jafar, and Cruella De Vil have never ventured off the island… until now. When the four troublemakers are sent to attend prep school alongside the children of beloved Disney heroes, they have a difficult choice to make: should they follow in their parents' wicked footsteps or learn to be good?
Please note that this is a registration, not audition, based program. This program also includes a parent/caregiver volunteer component.
Please review our Youth Education COVID Safety Guidelines here before registering. All staff and participants are required to wear a mask in classrooms and other program spaces regardless of vaccination status. Our goal is to allow unmasking of performers for performances if they submit a daily negative COVID rapid test result, although this policy may change at MCA's discretion. Masks will continue to be required for rehearsals.

Orientation:
Wednesday, December 7, 3:30 PM-6:30 PM
Parent/Caregiver Orientation:
Wednesday, December 7, 6:00 PM-6:30 PM
Auditions/Callbacks:
Friday, December 9, 3:30 PM-6:30 PM
Wednesday, December 14, 3:30 PM-6:30 PM
Rehearsals (not all participants will be required at every rehearsal):
Wednesday/Friday, 3:30 PM-6:30 PM, January 4-March 10
(No Rehearsals February 18-26)
Saturdays, February 11, March 4, 10:00 AM - 1:00 PM
SNOW DATES IF NEEDED:
Sunday, February 12 and Saturday, March 11, 10:00 AM - 1:00 PM
Tech Rehearsals (attendance is required for all cast):
March 13-16, 3:30 PM-6:45 PM
Performances:
Friday, March 17, 7:00 PM
Saturday, March 18, 2:00 PM and 7:00 PM
Sunday, March 19, 2:00 PM
Youth
WCT
(Gr 3-6)
Wednesday, Friday 03:30 pm - 06:30 pm
December 07 - March 19, 2023
M/ | NM/$380.00