Let's Say Gay! A Community Pride Event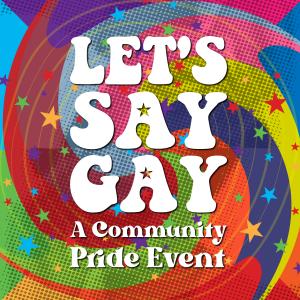 The Mosesian Center for the Arts is proud to partner with the Boston chapter of Drag Queen Story Hour for Let's Say Gay! A Community Pride Event. LGBTQ+ role models from both organizations will lead this afternoon of family-oriented visual and performing arts activities that celebrate creativity, inclusivity and self-expression. The event will feature a fabulous all-ages read-along by the performers of Drag Queen Story Hour, exciting activities including collaborative visual arts projects and acting and movement workshops, and a Pride-themed dance party! Most arts activities will be geared towards 3rd-5th graders, but everyone ages 5 and up is welcome to attend and join the all-day fun!
About Drag Queen Story Hour: Drag Queen Story Hour (DQSH) is just what it sounds like — drag queens reading stories to children in libraries, schools, and bookstores. DQSH captures the imagination and play of the gender fluidity of childhood and gives kids glamorous, positive, and unabashedly queer role models. In spaces like this, kids are able to see people who defy rigid gender restrictions and imagine a world where people can present as they wish, where dress up is real.
Schedule of Events:
12:00 - 1:00 PM: Drag Queen Story Hour read-along, sing-along, and Q&A with the performers for all ages.
1:00 - 3:15 PM: Activity Takeover: DSQH and MCA artists will host pop-up visual arts, acting, and movement activities all over the MCA. Each activity will last thirty minutes and be run multiple times throughout the day so that families can pick what they'd like to attend!
3:15 - 4 PM: Pride Dance Party: Before we say goodbye, join our artists for music and dancing in the MCA lobby! Whether your child spent the afternoon crafting a costume piece or learning some new dance moves, they'll have the opportunity to express themselves and show off what makes them feel special, creative, and proud!
Youth + Families + Teen + Adult
(Gr K-12)
Saturday, 12:00 pm - 04:00 pm
June 18, 2022
M/ | NM/$0.00