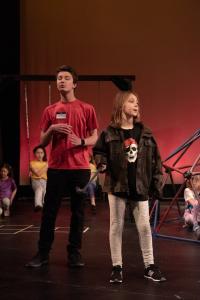 Join WCT's ASL interpreter Arlene Velleman to learn the basics of American Sign Language, as well as gain performance skills through movement and expression! The ensemble will work with songs for WCT's production of Schoolhouse Rock LIVE! Jrl, and participants will have the optional opportunity to shadow sign for select numbers for the Saturday 3/12 2:00 pm performance.
Wednesdays 4:00-5:30*
1/5, 1/12, 1/19, 1/26, 2/2, 2/9, 2/16, 3/2**
*Additional rehearsals TBD if participating in Schoolhouse Rock LIVE! Jr.
**No class 2/23
M/$185 NM/$200
Youth + Teen
WCT
(Gr 3-7)
Wednesday 04:00 pm - 05:30 pm
January 05 - March 02, 2022
M/$185.00 | NM/$200.00