The Art of Adaptations: 1925 Edition

Each year on January 1, a new group of artistic works enters the public domain under United States copyright law. "Public domain" means that anyone (the public) now has ownership (domain) of these works, and that they can use then without asking permission or paying any royalties or fees. And it also means that adaptations can be created from any of these works. (To learn more about copyright, read Copyright Basics from the U.S. Copyright Office or Copyright Facts for Kids at Kiddle.)
Some very famous works are adaptations—meaning that they're based on other works of art. Books become movies. Movies become musicals. Paintings become plays. Fairy tales become symphonies, operas, or ballets. The possibilities are endless.
In 2021, artworks created in 1925 entered the public domain. Some of these Jazz Age works include:
More artworks from 1925 are listed in this article.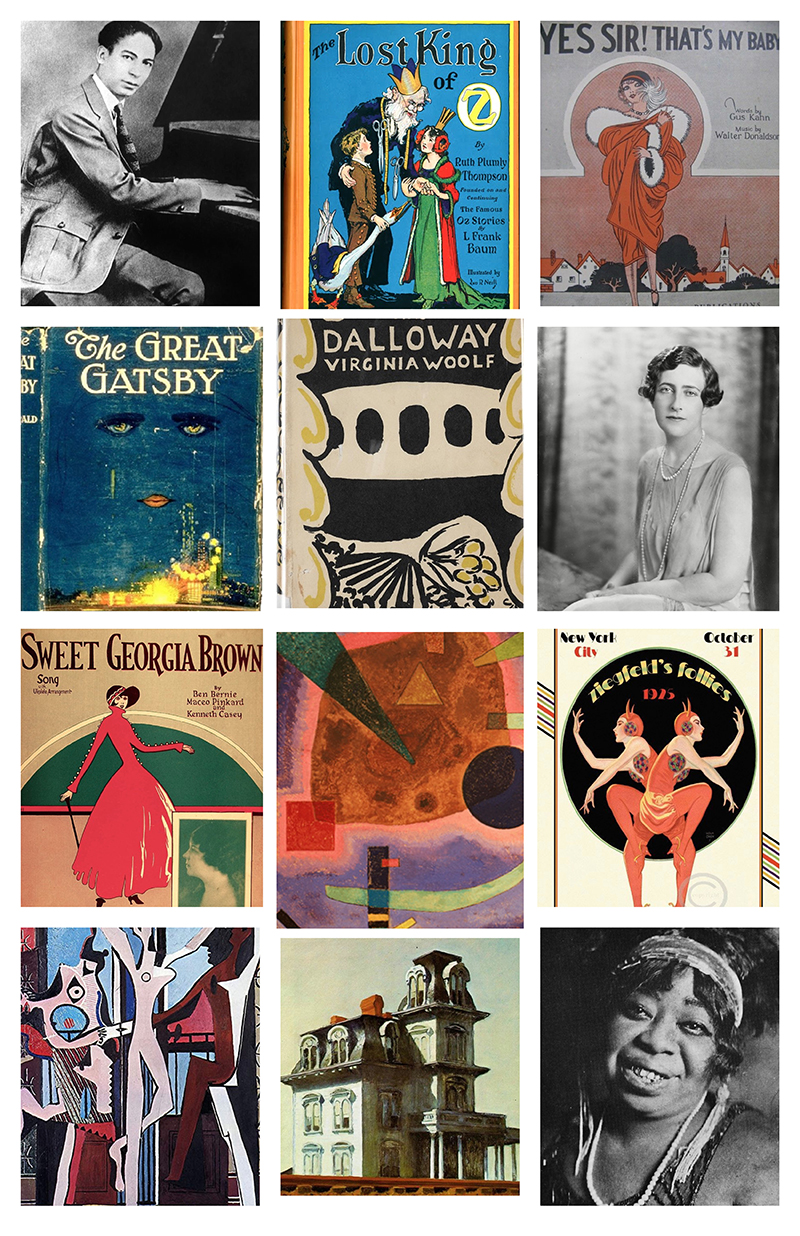 We're inviting artists, authors, and anyone creative (students too!) to create something new based on any of these works—a poem, a play, a song or dance, a novel or short story, a painting, sculpture, or photograph. Send them to us between February 1 and April 30 and, later in the spring, we'll share some of them in a festival of new works—with your permission, of course, because you'll be owner of your adaptation.
Submission Guidelines
Adaptations must be created based on artworks in the public domain from 1925 only.
Adaptations may take any form of art.
Excerpts, partial works, and works in progress are welcome.
Submissions should be emailed to adaptations@mosesianarts.org. Contact us regarding files too large to email.
Written works should be in Word or PDF format. Images, sound recordings, and video recordings may also be submitted.
Submissions must be made by May 15, 2021, at 12:00 midnight. There is no submission fee; neither are there awards or stipends offered for works submitted.
Authors and other artists certify that they have confirmed the public domain status of original works. (Please note that public domain status in the United States does not ensure public domain status in other countries or jurisdictions.) Authors will retain all rights in their works of course.
Not all submissions will be selected for sharing. Authors and artists of pieces selected will be contacted prior to any public sharing.
Enjoy and be creative! We're looking forward to seeing what you can do!