Intermediate Comics Workshop Online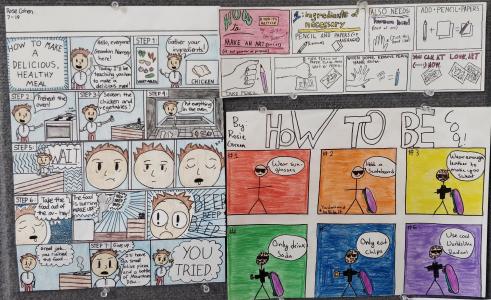 Want to push your drawing and writing skills to the next level? This unique workshop is perfect for participants who have already completed teaching artist Zoe Schein's Making Comics program, or those who have equivalent experience in comics. Every Thursday for 4 weeks, participants will gather with Zoe in a fun, supportive environment on Zoom video to create together, receive feedback on their art, and just catch up with each other!
Zoe Schein is a freelance illustrator, writer, and educator hailing from Central Illinois and living and working in Boston, Massachusetts. Schein's artistic work emphasizes visual storytelling and narrative, with particular emphasis on comics, integrated graphic essays, pen-and-ink illustration, and printmaking. She has developed and taught courses in drawing, making comics, introductory animation, creative writing, and memoir writing, and has assisted in workshops centered on filmmaking and digital storytelling. She delights in teaching.
Thursdays 4:00 - 5:00
5/14, 5/21, 5/28, 6/4
$100
Youth
Visual Arts
(Gr 3-8)
Thursdays 04:00 pm - 05:00 pm
May 14 - June 04, 2020
M/$100.00 | NM/$100.00