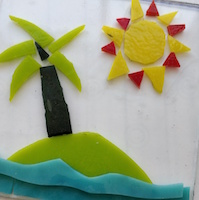 Take a break from the social distancing routine to get in touch with your creative side! Participants discover a new visual arts project every class session in this expressive program led by teaching artist Sami Martasian. Topics include comics and zines, portraits, abstract drawing, and more!
Supply list will be emailed to participants prior to the first class, but most materials will be items participants already have at home.
Sami Martasian is a teaching artist and musician living in Allston, MA. They work as a freelance illustrator often making album artwork and posters. Sami also leads and creates after school and art education programming focusing on providing spaces for children to experiment, learn and connect with each other.
Tuesdays 4:00 - 5:00 PM and Saturdays 11:00 AM - 12:00 PM
Term D 5/26, 5/30, 6/2, 6/6
$100 per term
Youth
Visual Arts
(Gr 3-5)
Tuesday, Saturday 04:00 pm - 12:00 pm
May 26 - June 06, 2020
M/$100.00 | NM/$100.00