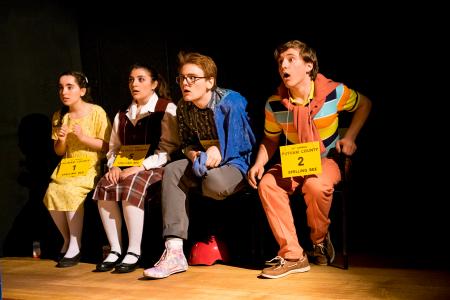 Social distancing is the perfect time to strengthen your acting skills! Teaching artists Eva Murray and Rachel Maddox lead exercises in character development, vocal projection and articulation, movement, and script analysis that help participants gain confidence in monologue and scene work. Even if your scene partner is miles away, you'll still be able to work together to tell a story through the magic of Zoom! Class content varies each term, so participants may enroll in more than one term. This program culminates in an online sharing for families and friends.
Eva Murray (she/her and they/them) is a theatre artist, educator/director, choreographer, and performer dedicated to serving and supporting the magic of young people! Eva believes that we are all students of life and is honored to be able to share in collaboration, creativity, curiosity, and imagination with her students. Eva keeps their dedication to the growth, agency, and expression of young people as their driving force in their classes. They also work as a teaching artist at CityStage Spotlight Program and Wheelock Family Theater, a part-time teacher at the preschool Lemberg Children's Center, the Volunteer Coordinator for The Rhode Island Black Storytellers' Funda Festival, and a Counselor at the Silver Lake Conference Center. Eva is extremely excited about the work and discovery that is championed at WCT!
Rachel Maddox is a non-binary playwright and critical educator with a K-6 teaching credential. Since graduating, Rachel has acquired a wide variety of skills at the intersection of their study of theatre and education. They worked in stage management and design on a professional musical production in San Francisco while also working as a Special Education Instructional Support Specialist in the Oakland Unified School District. Upon returning to the East Coast, Rachel worked as a long-term substitute teacher for a 4th/5th grade classroom, and as a teaching artist for Boston-based theatre programs throughout the summer. Most recently, Rachel has been working as a production manager for the Rhode Island Black Storytellers and a freelance teaching artist, while pursuing and developing playwriting.
Wednesdays 3:30-4:45 and Saturdays 12:30-1:45
Term D 5/27, 5/30, 6/3, 6/6
$125 per term
Youth
WCT
(Gr 5-8)
Wednesday, Saturday 03:30 pm - 01:45 pm
May 27 - June 06, 2020
M/$125.00 | NM/$125.00