CYC Level 1 - Foundation Online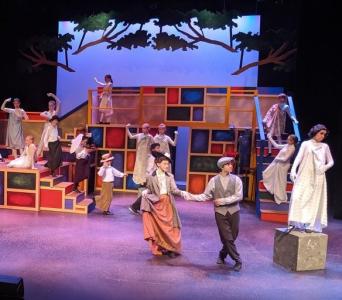 Like a Cyclorama (or Cyc) curtain enclosing a stage to create a background, WCT's CYC program serves as the basis for all technical/production work at WCT. CYC students have the opportunity to explore all aspects of technical and production based theatre. Active CYC students receive priority consideration for serving as crew members for season productions, work alongside professional designers, and receive opportunities (based on skill level) to design showcases and student productions throughout the year.
The Foundation course equips students with key knowledge in all areas of theatrical design. This program launches participants into the workings of a production team's process from concept to execution. Under the guidance of teaching artist and WCT designer Sarah Winters, participants discover all the elements that must work together to produce a successful, cohesive production. Foundation CYC members are also given priority as crew members for WCT productions.
Sarah Winters is an artist, designer and educator based in Somerville, MA. Her work spans many disciplines including costume design, visual arts, floral design and creative writing.
Mondays and Wednesdays 5:00-6:00 PM
3/30, 4/1, 4/6, 4/13, 4/15, 4/20, 4/22, 4/27
$200
Youth + Teen
WCT
(Gr 5-12)
Monday, Wednesday 05:00 pm - 06:00 pm
March 30 - April 27, 2020
M/$200.00 | NM/$200.00