Page to Stage Online Term B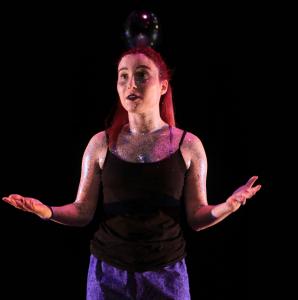 In this favorite WCT program, teaching artist Eva Murray will guide participants through castles, outer space, and even under the sea as they learn the fundamentals of acting! Through Zoom video chat, children and families can act along with Eva as she reads exciting stories. Term B will journey on the Magic School Bus for scientific adventures. Using their bodies, voices, and imaginations, young actors will even invent stories of their own!
Eva Murray (she/her and they/them) is a theatre artist, educator/director, choreographer, and performer dedicated to serving and supporting the magic of young people! Eva believes that we are all students of life and is honored to be able to share in collaboration, creativity, curiosity, and imagination with her students. Eva keeps their dedication to the growth, agency, and expression of young people as their driving force in their classes. They also work as a teaching artist at CityStage Spotlight Program and Wheelock Family Theater, a part-time teacher at the preschool Lemberg Children's Center, the Volunteer Coordinator for The Rhode Island Black Storytellers' Funda Festival, and a Counselor at the Silver Lake Conference Center. Eva is extremely excited about the work and discovery that is championed at WCT!

Term B- Magic School Bus
Thursdays 3:00-4:00 PM and Saturdays 10:00-11:00 AM
4/11, 4/16, 4/18, 4/23
$100 per Term
Youth
WCT
(Gr K-2)
Thursday, Saturday 10:00 am - 04:00 pm
April 11 - April 23, 2020
M/$100.00 | NM/$100.00