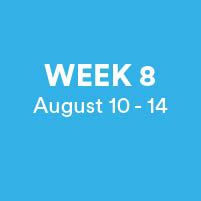 Love painting and making sculpture? How about printmaking and collage? Don't be limited to just one way of making art, do them all! Participants experiment with a wide variety of art making techniques and combine them in new and interesting ways. Painting, drawing, collage, and sculpture are all part of the fun in this exciting and popular program! This program culminates in a program-wide, multimedia showcase and exhibit on Friday for family and friends.

Student Showcase and Exhibit: Friday, August 14, details will be sent at a later date

EXTENDED DAY is available for all ages!
8:00 am - 9:00 am, $20 per day | 4:00 pm - 6:00 pm, $30 per day. No afternoon extended day on Fridays.

To register please visit mosesianarts.org/education/info. Complete online extended day registration form at least 24 hours in advance.

Youth
Visual Arts
(Gr 3-4)
Mondays, 09:00 am - 04:00 pm
August 10 - August 14, 2020
M/$415.00 | NM/$430.00