Tiny Triple Threats - Animal Planet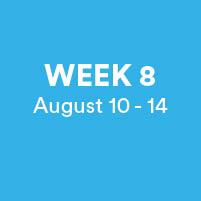 Sing! Dance! Design! In Tiny Triple Threats, our youngest participants get a chance to experience the many aspects of theatrical production. Paint with penguins, cha cha with cheetahs, sing with sea turtles, and act with aardvarks in this program focused on wildlife! Participants create their own vibrant world by moving like a menagerie of animals and making wild works of art! This program culminates in a program-wide, multimedia showcase and exhibit on Friday for family and friends.

Student Showcase and Exhibit: Friday, August 14, details will be sent at a later date

EXTENDED DAY is available for all ages!
8:00 am - 9:00 am, $20 per day | 4:00 pm - 6:00 pm, $30 per day. No afternoon extended day on Fridays.

To register please visit mosesianarts.org/education/info. Complete online extended day registration form at least 24 hours in advance.

Need a HALF-DAY option? No problem! Please contact registration@mosesianarts.org for details on how to register.
Youth
Interdisciplinary
(Gr K-2)
Mondays, 09:00 am - 04:00 pm
August 10 - August 14, 2020
M/$415.00 | NM/$430.00