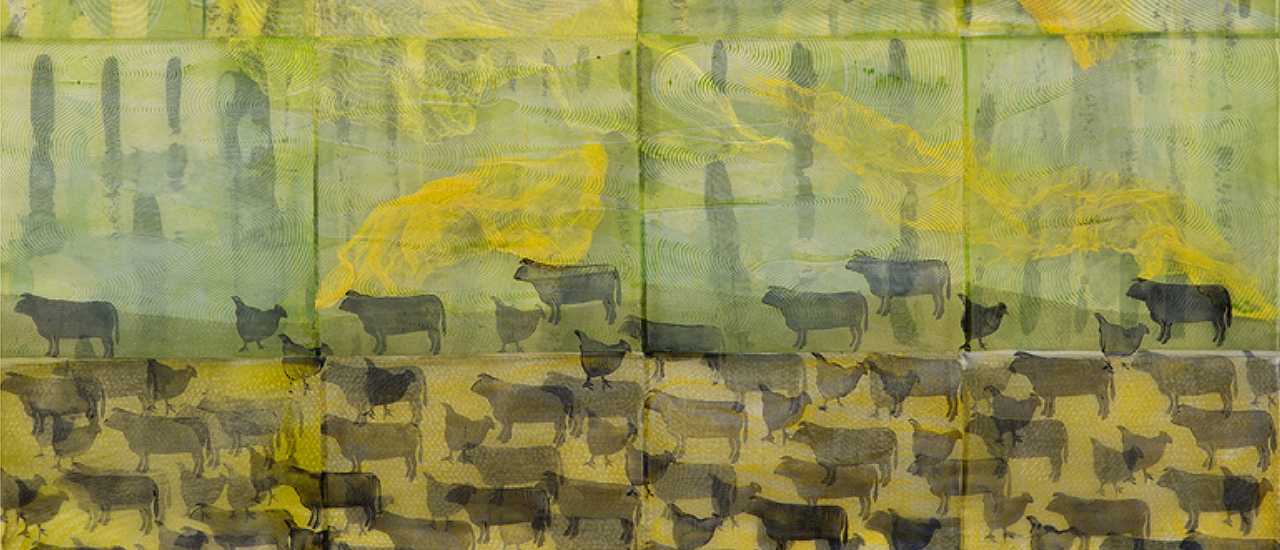 CALL FOR ART
The Mosesian Center for the Arts seeks artwork for its upcoming Spring 2020 exhibition titled Human/Nature. Human/Nature asks artists to reflect on the ways people impact the natural environment. What expected and unexpected relationships exist between our communities and the changing environment? What would it look like to modify the way we live in order to lessen the damage that our impact causes to the planet? This exhibition seeks to provide a space for artists and patrons to reflect on and share their relationship with caring for our rapidly changing environment and challenge our diverse community to think critically about the climate through art.

The MCA seeks artwork in all forms and mediums that address concepts of sustainability, environmental impact, ecology, pollution, and climate change. This exhibition will also coincide with the 50th anniversary of Earth Day, the planet's largest civic event dedicated to advocacy and awareness of issues facing the world's environmental health. This exhibition will engage our community in conversations about our responsibility to protect our environment.

The Mosesian Center for the Arts is pleased to welcome Boston-based artist Nathalie Miebach as the juror for this exhibition.

About the Juror, Nathalie Miebach: Nathalie Miebach is a Boston-based artist who translates weather data into complex sculptures and musical scores. Her work focuses on the intersection of art and science and the visual articulation of scientific observations. Her woven sculptures interpret scientific data related to astronomy, ecology and meteorology in three-dimensional space. Her pieces simultaneously function as works of art, aural embodiments of data (musical compositions) and instruments that illustrate environmental change. She holds a Bachelor of Fine Arts in Political Science from Oberlin College, OH, and both a Master of Art Education and Master of Fine Arts from Massachusetts College of Art, MA. She is the recipient of the International Sculpture 2006 Outstanding Student Award, a LEF grant, two year fellowship at the Fine Arts Work Center, a Bemis Center for Contemporary Arts Residency in Omaha, NE, and the Berwick Research Institute Residency in Boston, MA.

Additional Programming:
Our opening reception will coincide with Earth Day, April 22, 2020 and will feature a celebration and participatory activity where artists and visitors will be asked to engage with the "Artists of the Earth Campaign" through the Earth Day Network.
Converge Theatre Project will perform "Dreams About the Planet" at the MCA in conjunction with the exhibition. "Dreams About the Planet" is a new play that explores how kids can help reduce the human impact that causes climate change. This production of "Dreams About the Planet" will be free and open to the public.

Important Dates:
Submission Deadline: 2/3/20
Announce Selected Artists: 2/14/20
Receive Art By: 3/21/20
Exhibition Opens: 4/2/20
Opening Reception: 4/22/20
Exhibition Closes: 6/12/20
Artwork Pick Up: 6/13/20

Please note that the Mosesian Center for the Arts reserves the right to make minor adjustments to the exhibition?timeline. Artists will be notified of final dates in their acceptance letters.

Eligibility:
Artists regardless of location are welcome to apply, including international artists. Local artists will be provided drop off time and date details upon acceptance. Non-local selected artists work must be received at the Mosesian Center for the Arts, 321 Arsenal Street, Watertown, MA 02472 c/o exhibitions by March 20, 2020. Non-local artists are responsible for shipping costs both to and from the MCA, unless other arrangements are made, and are responsible for insuring their work while in transit. If shipping work, each artist must provide a pre-paid, UPS or FedEx return shipping label including insurance. Please pack your work in sturdy reusable packaging. The Mosesian Center for the Arts carries appropriate insurance to cover all artwork in the show for the duration of the exhibition, including the time frame of drop-off, installation, de-installation and pick-up.

Submission Fee:
$10 per submission. Limit 5 submissions per artist.
Artwork must be submitted online at: mca-humannature.artcall.org

Accessibility:
The MCA gallery spaces are fully accessible and we strive to make the exhibition submission process accessible to all artists as well. We encourage anyone to enter our open call exhibitions. If you need any additional information or accommodations in order to enter, please email our Director of Exhibitions, Aneleise Ruggles at exhibits@mosesianarts.org or call 617-932-0100.

Commission Structure:
Artists receive 60% commission and The Mosesian Center for the Arts receives 40% for art sold during the exhibition. The Artist reserves all copyrights and reproduction rights on the artwork in the exhibition. The Mosesian Center for the Arts may duplicate and reproduce images of work for purposes of public relations and exhibition announcements directly related to the exhibition.
Image credit: Nancy Crasco, Greenhouse Gases
Exhibition Sponsor:

February 20 - February 20, 2020